Claire Pontef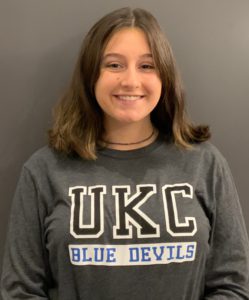 ract is the latest signee to join the Blue Devils soccer family this fall.
Hailing from Victoria, BC, Claire is an attacking minded player who can be deployed on the wings or through the middle as a centre forward. A player with a winning pedigree, Pontefract is member of the Bays United Football Club that won the 2020 regionals and part of (SMUS) St. Michaels University School senior girls soccer team that won AA provincials.
When not going directly to goal, Claire is able to get crosses in the box to setup goal scoring opportunities. Claire also has great strength and physicality when challenging for the ball and makes smart and quick decisions on getting the ball forward.