Cameron Nyman graduated from King's in 2022. Six months later, he's developing an impact assessment for aerospace company Solar Ship through King's unique, experiential learning partnership with Mitacs.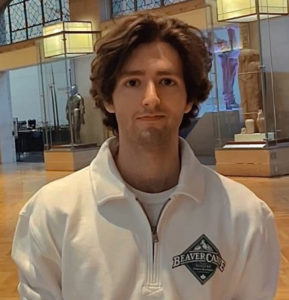 Cameron Nyman is the first student or graduate to participate in an internship facilitated by a new partnership with Mitacs that King's announced in the fall.
Nyman is from King City, Ontario. Having a vast assortment of skills and interests, he graduated high school knowing he would need a university that could cater to this. It was his high school history teacher who recommended King's.
At King's, Nyman majored in microbiology and immunology, and minored in History of Science and Technology (HOST). He also earned a Certificate in Medical Humanities.
"I always had an idea that my end goal was medical school," he said. "I did FYP, and I minored in HOST because I did not want to abandon the liberal arts, the histories, the philosophies." Instead, he says he intended for his studies at King's—and his HOST courses in particular—"to supplement and contextualize the scientific learning I always planned to do."
Approaching his graduation in the spring of 2022, he hadn't really thought about the year ahead but knew he wanted to take a gap year before he immersed himself in med school. That's when he learned about the internship opportunity.
"This internship … sounded like something I really wanted to devote myself to for the year," he said.
In May 2022, Nyman graduated with a Bachelor of Science; in July, he was off to Ontario to start the internship.
The internship is 12-months long and hosted by Toronto-based aerospace company Solar Ship. Solar Ship is a leading company in manufacturing fabric airships that use renewable energy. The goal is for these airships to fly without the need for fuel, roads or infrastructure and make transport and communications with remote areas easier—especially in times of crisis.
Solar Ship has a variety of missions set by Mission Aviation, Canadian and African peacekeeping veterans, Royal Canadian Airforce veterans and Manaf Freighters to make solar-powered airships that can take off and land from unprepared ground and transport cargo.
The humanistic aspect of the internship is what initially caught Nyman's attention.
"They were interested in somebody who understood the scientific process, but also wanted to contextualize scientific inquiry, scientific innovation—specifically aerospace, in the here and now," he said. "Making sure that we don't forget about the people that these innovations are supposed to help."
The founder and CEO of Solar Ship, Jay Godsall, interviewed Nyman, and Godsall's enthusiasm affirmed for Nyman that the internship was the right opportunity.
"It's very clear he's passionate about doing the right thing, which is, you know, saving lives, lowering our reliance on a carbon economy," Nyman said. "Seeing that this is the person at the helm of this company was a big motivating factor for me to hop on board."
As part of the interview process, Godsall had Nyman fill out a life plan document to map his passions, skills, optimal environment and the potential options that fit with these characteristics. Godsall said that Nyman's life plan is how he knew he would do well in the internship.
"Cameron is smart in science but very interested in social impact," Godsall said.
It was both Nyman's academic accomplishments and his character that brought him to Solar Ship. He didn't have practical experience in aerospace engineering or physics, but he understood scientific methodology and was willing to try something new.
"I think the biggest challenge for me was kind of, being okay with not quite understanding all of the nitty-gritty details," Nyman said.
There is undoubtedly a lot of complicated engineering and designing that is going on at Solar Ship. The idea of stepping into an unfamiliar professional space is intimidating, but doing so can be rewarding.
Nyman works in a small team at Solar Ship as the project lead; his team is responsible for designing an impact assessment system. An impact assessment system is a report that measures the impact of the technologies produced, and how they align with the public interest to achieve regulatory approval.
The team is starting with small technologies; they are currently writing the impact assessment for the TS-3, which is Solar Ship's smallest drone and the easiest one to deploy. Then, they will move on to more ambitious products like airships.
Godsall explained that the social impact is one of the most important aspects of innovation because the only way Solar Ship can get regulatory approval for these life-saving technologies is if people understand why they are of public interest and benefit.
"Defying gravity is something that's easier and easier to do because engineers have the brain tools and the technical tools to design anything," Godsall said. "But is it legal? No. Not because it doesn't work, it's because they can't make it work in the public interest system."
Nyman talked about how there is creative freedom in developing an impact assessment system and how he can completely design this system around a set of necessary information.
"The impact assessment system is really a story," Godsall said. "It has a plot, and there's a character in the plot, which in this case would be the machine trying to survive."
Nyman is looking forward to watching the airships go from indoor testing to watching the larger drones fly.
"I'm really hoping that my work here helps push these amazing technologies out of the realm of 'yeah, we can't do this right now,' to flying in the air and having the impact I know they can have."