Alex Quon (BJ'16, MJ'17) has conducted an investigation into seven years of data on food inspection records in Nova Scotia, discovering restaurants may not be inspected as often as you think.
A data journalist now with Global Halifax, Quon analyzed more than 43,000 inspection records and found that despite the province's having one of the laxest inspection regimes in the country (18 months is the maximum allowable time between inspections per provincial guidelines), it hasn't been able to meet its own standards. His investigation into the issue yielded a three-part investigative series that pushed ratings up for Global.
"Restaurant safety is really important and also really gross," he told this year's masters of journalism (MJ) students during a guest lecture he gave on campus in November 2017.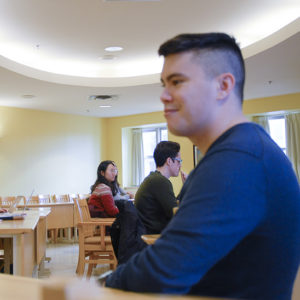 Quon came up with the idea of looking at restaurant inspections when choosing a topic for his professional project, the capstone project all MJ students complete. "I knew I wanted to use a gigantic data set…No one before me had attempted to scrape this database."
Through an online database of restaurant inspections and multiple freedom of information requests, he discovered that 32% of the province's restaurants that have operated in Nova Scotia during the past seven years have gone 18 months or longer without an inspection.
"Data is powerful. It formed the backbone of my (food inspection) story. From there on in it was interviews about the data to give it context," says Quon.
When he was at King's last year, Quon worked as a freelance reporter for Metro News. He then did a term position in the investigative unit at the CBC in Halifax before joining Global.
"Data journalism is still really new…I've created a niche for myself," he says. Quon sought extra help from professor Fred Vallance-Jones, who Quon says took time out of his own schedule to teach him outside of class. The two met at a conference three years ago where Vallance-Jones convinced Quon to move from Saskatchewan to Halifax for King's graduate journalism programs. "If I didn't go through King's I wouldn't have a job. The skills I learned here are the skills I sell myself on," Quon says.
During his presentation, when a student asked Quon what he found most useful about his MJ degree he cited learning how to code, learning how to use numbers in a way to tell a story people are interested in, and investigative skills. "The skills I learned here (at King's) make finding stories and communicating them easier."