A funeral service will be held at the King's Chapel on Monday, April 17th at 1pm, followed by a reception.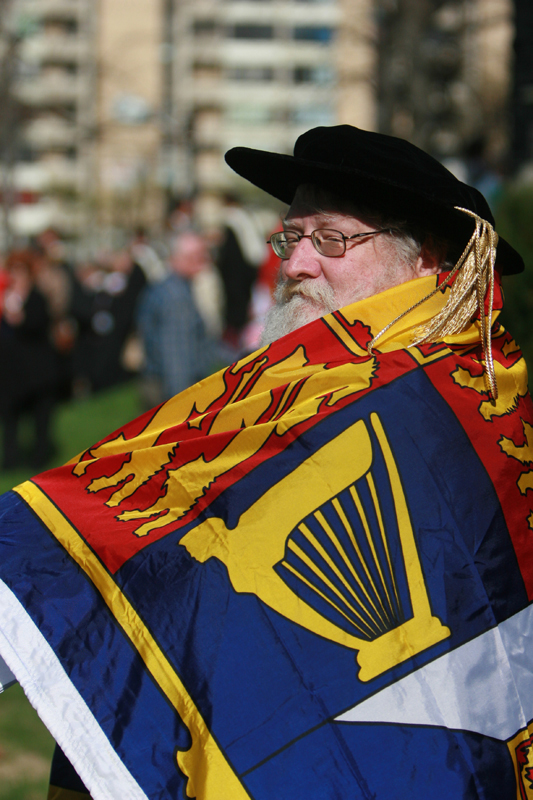 Dr. Angus M. Johnston was raised in Dartmouth and made his life and career in Halifax where he lived with his wife, Sandra Haycock, until his death on April 9, 2017. Together, they raised two daughters, Harriet and Phoebe (BAH '09).
Angus' post-secondary education began at Mount Allison where he received his BA (Honours Philosophy) in 1970. He continued as a guest student at Heidelberg University, where he audited German language classes and attended lectures and seminars on Kant and Heidegger in 1970-71. He received his MA in Classics from Dalhousie in 1974, and his PhD from Dalhousie in the fall of 1985.
Angus' academic career ran parallel to his education, beginning in 1973 when he was appointed Teaching Assistant in the Department of Classics at Dalhousie, a position that he held through to 1981.
His lifelong association with the University of King's College began in September 1977 when President John Godfrey appointed Angus Junior Fellow in the Foundation Year Programme (FYP). In 1979-80, he was given the additional role of High School Visitor.
Angus was promoted to Associate Director of FYP in 1981 and held the role until becoming Director in 1984. Although the Foundation Year Programme was 6 years old by the time Angus began to have influence, his assent to the position of director, and his years spent as director, spanned 8 of the programme's early and formative years.
Concurrently, Angus served as Teaching Assistant in the Department of Modern Languages and Classics at Saint Mary's University from 1982-83, and he held part-time appointments as Assistant Professor in the Department of Classics at Dalhousie from 1984-89.
Appointed by President Marion Fry, Angus became Vice-President of King's College in 1988, the same year he received tenure. He was promoted to Associate Professor in 1993. His term as Vice-President lasted 12 years, one of the longest vice-presidential terms in King's history. His final term appointment, made by President Colin Starnes, was from 1995 until 2000. A well-deserved sabbatical and administrative leave followed in 2001-2002.
As Associate Professor, Angus also began teaching in the History of Science and Technology (HOST) in 2003 and, in the following year, was appointed Adjunct Professor of Graduate Studies in the Classics Department at Dalhousie. During this time, he also served two terms on the Board of the Atlantic School of Theology.
A close friend of architect Roy Willwerth, Angus was intimately involved in the design and construction of the New Academic Building. The building's primary purpose was to create a new home for FYP and Angus invested himself in every detail, from funding proposals to the colour of its paint.
On his approach to retirement, from 2005 until 2008, Angus served another term as the Foundation Year Programme's Director. His teaching career came to a close with the now legendary Final FYP Lecture on Bob Dylan, April 3, 2009. He was made a King's Inglis Professor in November 2009.
In addition to his contributions to the King's community, Angus was one of the founders of Halifax Humanities who guided the organization through to its present form. Always dedicated to teaching, among his many indelible gifts was his enthusiastic introduction of Halifax Humanities students to the beauty and wonder of opera.
As this chronological view of Angus' career paints only a fraction of the picture, we republish Nadine LaRoche's (BJH '06) essay, originally published in Tidings, with what now seems all too apt a title, King's College sings farewell to Dr. Angus Johnston.
Speaking of pictures, in November 2009, at a celebration in the Lodge, Angus was presented with a painting as a parting gift entitled Angus Johnston Lectures on Bob Dylan above King's College. The artist, John Hartman, depicts Angus sitting on a cloud floating above the quad. On a day like today, it would be lovely to imagine that this is where he will always be.