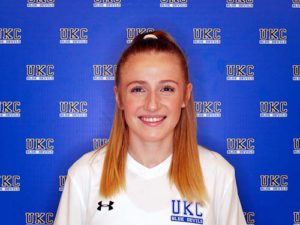 UKC Women's Soccer's Sophie Shepherd has been named Atlantic Collegiate Athletic Association Female Athlete of the week for the week of September 18. Registering four goals over the weekend, Shepherd buoyed the Blue Devils to continue their undefeated start to the season. Shepherd gave King's an early lead in the weekend opener at Holland College, scoring an unassisted goal in the 11th minute. King's would end up settling for only a point following a late Hurricane equalizer.
In the Sunday fixture Shepherd again started up front, this time against the Rams of Dalhousie AC in her hometown of Truro, N.S. Scoring twice before the half (8th & 43rd minutes), Shepherd carried King's into halftime up 2-0. Eager to complete her hat-trick, Shepherd scored her third and final goal in the 48th minute; followed by a solo effort from Anna Dugandzic in the 60th minute to seal the game for the Blue Devils.
As the team enjoys an undefeated start to the season, Head Coach Gary Carter notes that Shepherds influence has been palpable since she joined the side this fall. "Right from training camp Sophie started exhibiting her prowess for for attacks on goal," says Carter. "She's been a great addition on the goal side and we're really pleased with her energy levels."
Shepherd recognizes the teams development even in the early stages of the season. "The beginning of the season has been really great for us. I think we're developing more each and every week, and it shows in our game results," says Shepherd. "The Holland game really kick started things for us I think. We didn't win, but we had great movement and I think we all felt things starting to come together. The confidence we gained as a team really helped us find our stride in the 4-0 game the next day against the AC."
The game against Dal AC was always going to bear special significance to Shepherd: "Of course, this was a special game for me, being back in my hometown for the first time and having my friends and family there to watch. It was a really great feeling and I couldn't have been more proud to be representing UKC on my hometowns field."
Find other news,  as well as the schedule and roster can be found on the women's soccer page.