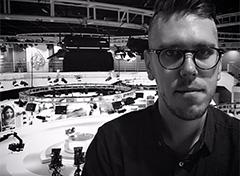 Dorian Geiger (BJ '13), a journalist for the Al Jazeera news network, recently wrote an article on Hong Kong families who hid American dissident Edward Snowden. The article, shared thousands of times globally, was 'retweeted' by Snowden himself, and also 'liked' by Snowden biopic-director Oliver Stone.
Geiger's article: "Asylum seekers pay price for sheltering Edward Snowden" on aljazeera.com.
Geiger says that the story, "tested every reporting bone in my body. Obtaining an exclusive quote from Edward Snowden, albeit through his lawyer, was a was a daunting task."
You can read more about Dorian on ItTakesCourage.ca.