The 2022 Black History Month event titled "Experiencing Inclusion and Diversity in the Workplace: Challenges and Solutions" began with a nod to Africa. Amadou Kienou, a drummer from West Africa currently living in Toronto kicked off the event in song accompanied by the sounds of his djembe drum. Although I did not understand the language he sang in, the harmonious blend of Kienou's melody and the beating of the goblet-shaped drum awakened my African roots. I found myself on my feet in the little empty space by the window of my bedroom, jumping and shifting my weight about, as the pace of the drumming quickened and then slowed. Thankfully I was behind my computer screen thus sparing other attendees the sight of a rhythmless African woman. So I moved, without fear or caution to the djembe's tom toms.
The event organizers, Dr. George Mbamalu and Ronke Taiwo, put together an enriching event featuring three impressive Black women: MLA for Preston riding Angela Simmonds, MLA for Halifax Needham, Suzy Hansen and Tiwatope Ogundipe, a policy analyst with the Department of Justice. The panel discussion was moderated by Dalhousie University's Director of African Nova Scotia Community Engagement, Jalana Lewis.
Simmonds stated that diversity and inclusion are often spoken "in the same breath." We "are already a diverse province," she said, adding that what we struggle with the most is inclusion. Simmonds talked about having options to include everyone and knowing what alternatives to add by having conversations with people. She advised us to open ourselves to authentic discussions with others. She explained that one of the best ways to learn about people is by listening to their stories. This resonated deeply with me as I too believe there is power in the exchange of our stories. Sometimes when we speak with people, particularly those who seem different from us, we tiptoe around some conversations for fear of getting things wrong or offending them. Simmonds told us that "we should be okay in our discomfort."
Suzy Hansen, the first Black person elected in her riding, is honoured to work in her current role, which inspires other Black people to be in leadership positions. Hansen emphasized that representation matters. She echoed Simmonds words; we should be "mindful that there will be uncomfortable moments" that are "crucial to gaining a positive outcome."
A bubbly young woman, Ogundipe encouraged attendees to make a difference in the spaces they currently find themselves. While it is important to have Black representation in high leadership positions such as the MLAs, it starts with smaller responsibilities in less visible spaces. Ogundipe emphasized that we all have value to add. "The workplace should be a microcosm of the larger community," she said. "Your diversity is not a setback; it is your strength."
For a Black, ambitious woman like myself, it was refreshing to listen to an all-female (Black) panel. I was inspired and felt a sense of pride to see women who look like me making a difference in their spaces. I however could not help but think the event might have benefitted from more diversity—especially considering it was a diversity and inclusion event. It would have been impactful to have a male panellist, disability representation, or a Black 2SLGBTQ+ speaker.
Other than my yearning for a more diverse set of speakers, I was glad to have attended. I walked away feeling inspired and even more proud to be Black in Canada when more Black women confidently step into spaces they wouldn't have in years past.
Now cue in the djembe drum as I sign off.
---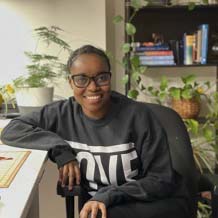 Valerie Chelangat is a current King's student in the Master of Fine Arts in Creative Nonfiction program.