Psychiatrist and philosopher Dr. Abraham Rudnick was the Dr. Saul Green Memorial Lecturer at King's this year
According to the Bible, when Noah was choosing animals for the Ark he selected two of each species: a male/female pair that was then responsible for procreating to repopulate the planet. Dr. Abraham Rudnick, the featured speaker at this year's Dr. Saul Green Memorial Lecture at King's, says this model mirrors the nuclear family, which is not realistic, at least as a model for distributing health care. It plays upon the premise that fair treatment means giving everyone equal opportunity.
Under the title, "Imagining better health care: can counterfactual ("what if…") learning by analogy from the bible help?" Dr. Abraham held the audience's attention with a lecture that was in turns challenging, empowering and provocative.
As the analogy extended further from Noah's Ark, he said equal distribution of resources, when applied to health care, is harmful. It means the socially disadvantaged, by virtue of their inability to work or earn satisfactory incomes, are vulnerable to poorer health outcomes.
"If people have reasonable income they have better health—the world over. We know that," Dr. Rudnick said, adding that the correlation between education and health outcomes is also proven.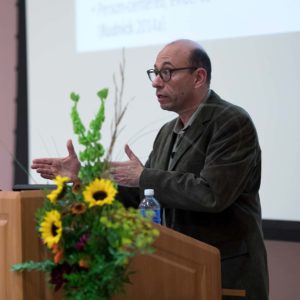 A social democracy that supports economic and social interventions to make health care delivery more equitable was but one of many possible ideas Dr. Rudnick, who's both a psychiatrist and philosopher, proposed during his lecture. He challenged the audience to imagine better health care, and take more responsibility for their own health.
His premise was based on counterfactual, or "what if" thinking. Such "what if" thinking may seem contrary to how we imagine a scientist, trained in the scientific method, may think. "What if" thinking works from analogy and critical comparisons, often from widely different resources, including cultural and religious ones. For Dr. Rudnick, the Bible is just such a rich source of counterfactual thinking. We can draw on its stories and its traditions to allow us to think "what if?" What if things were different? It is in the 'what ifs' that we find our critical fulcrum, our ways of imagining what we should do. Dr. Rudnick's dual training in psychiatry and philosophy allows him to holistically draw from diverse disciplines to apply creative and critical thinking to health-care transformation, to provide the tools to reimagine a critical, informed and democratic health care.
He asked by show of hands, how many audience members had read a peer-reviewed article about one of their own health conditions in the past year. The majority had not. "We trust our health-care providers too much," Dr. Rudnick said. He encouraged everyone to do research. "I want my patients to be better informed. I want to stand corrected," he said. He lamented how few people have access to their own patient portals—the digital records of their own health. "We need to better leverage digital health."
Other ideas he advocated included:
shorter waits for diagnostic imaging. "Waiting for a few months for a cancer diagnosis is a life changer."
more cost effectiveness through optimizing scopes of practice, e.g., using nurse practitioners instead of more costly doctors for routine care.
more accessibility to, and regulation of, health apps so there is quality control. "We don't know right now if they help or harm us."
better Internet infrastructure to enable Telemedicine and remote care.
balancing health-care spending to recognizes funding needs of education, employment and transportation infrastructure. "Half the provincial budget in Ontario is spent on health. We need to resource other priorities while protecting health."
Dr. Rudnick is a professor in the Department of Psychiatry and School of Occupational Therapy at Dalhousie University. He's also the Clinical Director of the Nova Scotia Operational Stress Injury Clinic, Canada, a Canadian Certified Physician Executive, and the Editor-in-Chief of the International Journal of Mental Health.
He is a recipient of national and international awards and other recognition, and in fall 2019, was selected to receive the Dalhousie University, Faculty of Medicine 2019 Educator of the Year award, after being nominated by his colleagues and peers.
The Dr. Saul Green Memorial Lecture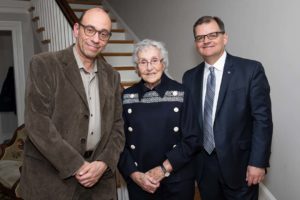 King's proudly presents the Dr. Saul Green Memorial Lecture in partnership with Shaar Shalom Synagogue.
President Lahey thanked King's alumna and neighbour Dr. Roselle Green, DipJ'65, DCL'15 who was Dr. Saul Green's wife, and the Shaar Shalom congregation, for choosing King's as home for the Dr. Saul Green Memorial Lecture.
President Lahey described the late Dr. Saul Green as a dedicated family doctor and general surgeon, but also so much more—a loyal friend, loving husband and father, and person of deep faith. And he spoke of the alignment between the Dr. Saul Green Memorial Lecture and the interdisclinary/intersectional way learning happens at King's. "Our holistic approach to education feels in keeping with Dr. Green's integrated approach to leading a full and meaningful life," President Lahey said, mentioning how Saul Green also saw connectivity between the things he cared deeply about—Judaism, medicine, and humanitarianism. "It's the intersection of these powerful concepts that was the genesis for this lecture series—and the reason we're here this evening."
"It allows us to come together as a community to consider and discuss the intersectionality of ideas, to be challenged and, most importantly, to learn."