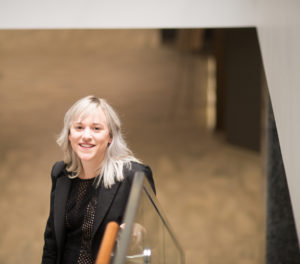 At its December 6, 2017, meeting, the King's Board of Governors welcomed Stephanie McGrath (BJH'99) as a Co-opted Member.
Stephanie currently leads the Content Strategy practice for digital marketing leader, VERB Interactive, helping drive the strategic direction for the SEO, Copywriting and Social Media teams.
After graduating from King's, she joined Canoe.ca in Toronto. The job opened doors to the dynamic world of digital content and led her to television newsrooms (CityTV), global editorial teams at AOL and MSN and into a life and career planning, creating and measuring digital content.
Stephanie's pre-VERB credits include leading the Content Strategy practice for NATIONAL PR, the largest PR firm in Canada and working with NATIONAL's subsidiary firms in New York and London on content strategies for large pharmaceutical companies. She was also the Content Strategist for T4G and the Storytelling and Content Lead for T4G's creative agency – T4G Kick, where she led strategic projects for government, tourism and post-secondary clients.
In addition to her Bachelor of Journalism, Honours degree, Stephanie completed the Content Marketing Institute's Content Marketing University online certificate program and the Writing with Style program at the Banff Centre for the Arts. She also attended the Video Storytelling Workshop at KDMC Berkeley, University of California, Berkeley Graduate School of Journalism.
Stephanie's work has appeared in the Halifax Chronicle Herald, Huffington Post Canada, MSN, TheLoop.ca and CBC's Definitely Not the Opera.