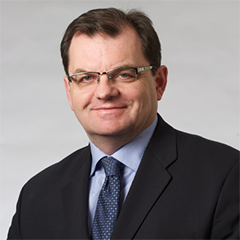 In a previous message, I shared our concern about the financial impacts of COVID-19 on our students and their ability to begin or continue their university education at King's. So far, 22 students have applied for and received bursaries from the Student Emergency Relief Fund we announced on Friday, March 13 – the day we asked students who were able to leave residence to do so, and also when we began the transition to online teaching and learning. These students lost employment and/or incurred unexpected travel and relocation expenses.
Last week, I thanked all who had contributed to our fund, which at that time had reached $3,000. I was deeply moved when an alumnus immediately contacted me with an offer to match this amount. Inspired by that act of generosity and the generosity of those who had previously contributed, Kathryn and I have in turn contributed $3,000 to the fund.
As we look forward, we know that some of our students will face more significant financial challenges in the coming academic year. The unavailability or loss of summer employment and other financial strains will make the coming year difficult for many. To address this, we continue through the Council of Nova Scotia University Presidents and Universities Canada to work with other universities and the Nova Scotian and Canadian governments to ensure our students are supported by increased government funding. But we know our students will face COVID-19 related impacts beyond whatever funding governments provide.
Today, I ask those of you who are able to consider making your own contribution to the university's capacity to help our students. I understand that many of you, including recent graduates and those who have had your own income adversely affected by the pandemic, will not be able to contribute. Your support in other ways will continue to be greatly appreciated.
Thank you.
I conclude with what has become a giving custom of another kind. This week, in the series of lectures from Halifax Humanities, Dr. Neil Robertson and Dr. Susan Dodd offer you Erasmus, delivered by former King's President Dr. Bill Barker. In a related vein, I think you may also enjoy the 22 FYP Letters by which Dr. Dodd and her FYP colleagues and students ensure we continue to learn in community. By some mysterious alchemy, they display the multiple ways in which King's humanities speaks to our current situation while also encompassing a broad range of the intellectual history of FYP, anticipating the Program's 50th anniversary.
I also share work about COVID-19 that our journalism students just published through The Signal. Students from instructor Catherine Harrop's Advanced Reporting 2 course were featured on CTV Atlantic for producing a news show while socially isolating – another example of our community's determination to learn and create in community in the face even of a pandemic. Additionally, our journalism students produced impressive work in professor David Swick's Online Features course which was published this week as Sturdy Tales for Worried People.
Warm regards to everyone.
Bill