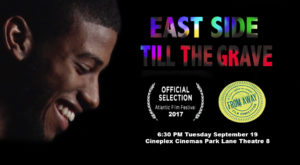 East Side Till the Grave, a short documentary film by Victoria Walton (BJH '17) and Bronwen McKie (BJH '17) will be shown in both the Atlantic Film Festival on September 19, and the Charlottetown film festival on September 30.
Made in 6 short weeks for the documentary workshop taught by Professor Sylvia Hamilton, King's Rogers Chair in Journalism, East Side Till the Grave is a 10-minute short documentary film that dives into the world of African-Nova Scotian rapper MAJE, whose story reveals obstacles within Halifax's hip-hop community, and the genre's influence on the city's culture.
The film was selected for the Atlantic Film Festival as part of From Away, a film competition for Atlantic post-secondary students launched as part of Canada's 150th celebrations. Student filmmakers were asked to "examine, explore or celebrate Canada as home as both a concrete and abstract space – a landscape, a person, a feeling, a memory – through the medium of film."
Check out a trailer for the film below.