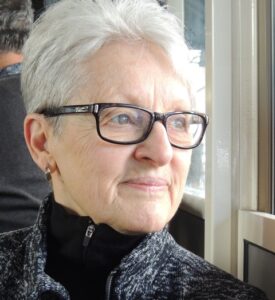 When she retired, Sue Harper told everyone she knew she was going to become a freelance writer. "It wasn't such a stretch," she says. She'd already authored nine textbooks and three nonfiction books for reluctant readers. She'd studied fiction at the Humber School for Writers.
But retirement didn't turn out as planned. After two years, "I was rootless." Spending a winter in Paris while her partner, Bonnie Sheppard, studied art "made me face many of my fears and started to push me back in touch with myself." She decided she "wanted to write a literary travel book about Paris."
That's why she applied to the University of King's College MFA in Creative Nonfiction program. "It was the only one I could find that would allow me to do that."
That didn't turn out quite as she'd planned either. And she couldn't be happier.
Winter in the City of Light: A Search for Self in Retirement by Sue Harper (Class of 2016) is "a practical memoir about what happens when the sugar-rush of retirement crashes, and 'I can do anything' becomes, 'Oh, oh, what now?'" The book takes her back to the streets of Paris where "I rediscover myself through famous and not so famous locations and histories. Touching on the neuroscience and psychology of our aging brains, I demonstrate how the third act can be as creative and fulfilling as the first two."
How did her "literary travel book" become a practical memoir?
After pitching the idea to faculty, mentors and fellow students during her first MFA residency, she quickly realized the book she'd imagined was "something I couldn't do." But with mentor Harry Thurston's encouragement — "He should be given a gold medal for knowing when to push and when to back off" — "I wrote and wrote and wrote. Harry pushed me to get more in touch with myself through my stories."
If not for her second mentor, Jane Silcott, she adds, "this book in its present form would not exist. She pushed me even further to connect the Paris stories to myself. The exercises she gave in class were inspirational. She made me a better thinker and a better writer."
When she pitched her project again — this time to the marketing director of a major Canadian publisher as part of a "pitching exercise" during the MFA's Toronto winter residency — he told her she was writing a practical memoir and, "although I wasn't there yet, he aimed me in the right direction."
By the time her manuscript arrived at its destination, it had become a collective venture. Harper's fellow grad, Lesley Buxton (Class of 2016), "just kept encouraging me;" Buxton's husband, Mark Taylor, a graphic designer, designed her book while Harper's partner, Bonnie, provided the artwork for the cover; and Lynne Melcombe (Class of 2015), served as proofreader and copy editor.
In May 2019, Winter in the City of Light was ready to see the light of publishing day.
For someone whose first crack at retired life didn't quite work out, Harper now has more than a full plate. In addition to publicizing Winter in the City of Light, she and Buxton have a March 2020 deadline for the first in a series of three travel guides to the regional museums of British Columbia aimed at children in Grades 3-6 (and their families). The books will be published by Rocky Mountain Books, a BC-based publisher. Harper reports she's also planning to write a number of articles about "Parkrun," a community 5-km fun run that originated in the UK but has spread worldwide. She and her partner have already done Parkruns in New Zealand, where they spend part of each year and in Kelowna, their Canadian home base.
"These days," she says, "I have to have a story that speaks to me. I find them in the strangest places."