Tanya Tagaq, an Inuk-Canadian experimental artist from Nunavut and the 2014 Polaris Music Prize winner known primarily for throat singing, spoke and performed at King's last week at the Alex Fountain Memorial Lecture.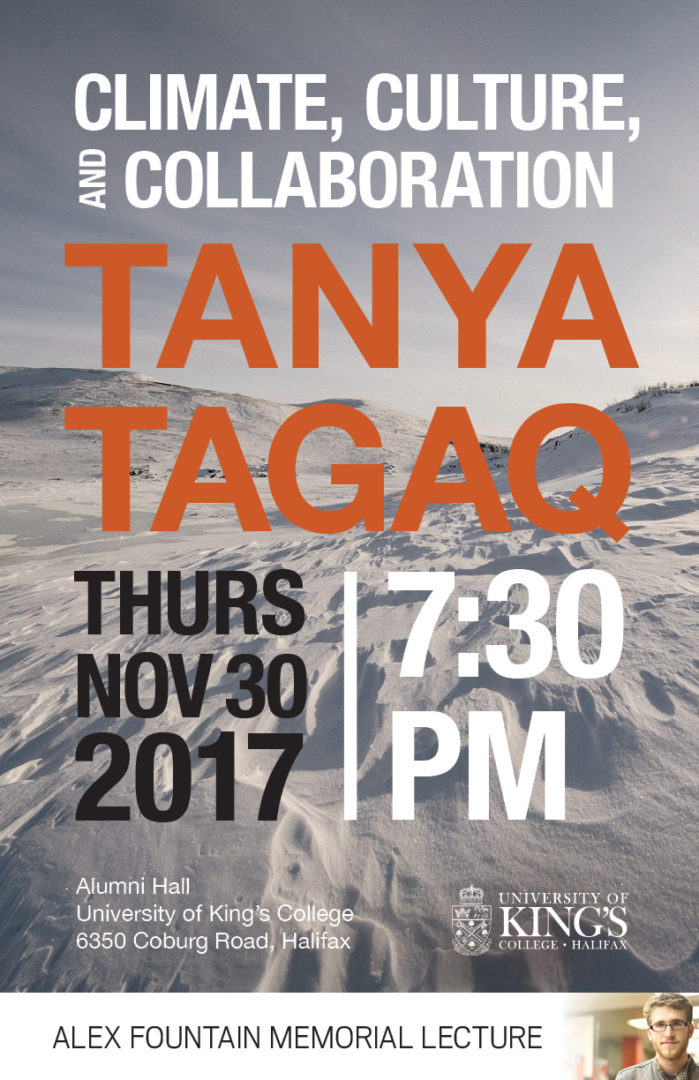 Tanya's topic was "Climate, culture and collaboration." She shared stories and images of her parents and how they lived off the land in the Arctic, how life has changed for them in Nunavut, and the backlash she has faced for publicly supporting Inuk traditions including the seal hunt. She opened the night by saying that she was nervous, but seemed to relax after giving a seven-minute improvised throat singing performance. Her passionate talk also urged the audience to take action to help the Inuk.
In his closing remarks, King's Vice President Peter O'Brien called Tanya's talk, "provocative, mesmerizing and stimulating."
Audience members tweeted these reactions:
"So grateful for @Tagaq's songs and words tonight @ukings. It was radical and loving and funny and important," wrote @averysmallking.
"@tagaq thank you so much for all you shared yesterday at @ukings. Your words & presence & warmth & love inspire me and everyone else," wrote @djwhitten.
Alex Fountain was a student at King's who died by suicide on August 22, 2009 at the age of 20. He was a well-loved member of the King's community.
In the spirit of engagement, his family—parents Fred and Elizabeth Fountain, and sister Katharine—established the Alex Fountain Memorial Lecture in 2011. Through their gift, the King's student body votes for a speaker of their choosing every year. King's Student Union President Brennan McCracken introduced Tanya to the capacity crowd, calling her "incomparable."
Tanya expressed her sympathy to the Fountains. One theme of her talk was to address our similarities as a human species, and she referenced high levels of suicide in First Nations communities and within her own family and circle of close friends as part of a mental health crisis that Canada needs to address.
Kathryn Fountain tweeted her appreciation: "@Tagaq thank you so much for speaking at my brother's memorial lecture last night @ukings. I'm so sorry I couldn't attend, but my parents told me that you spoke wonderfully and that it was a really special night."