On March 31, King's athletes, coaches and community members gathered in Prince Hall for a banquet celebrating their accomplishments on the field, on the court and in the classroom. Thirty-six King's students achieved honour roll standing this year, with a GPA of 3.7 or higher. Among them, seven Blue Devils earned CCAA Academic All-Canadian awards for being on the honour roll and being named a conference all-star.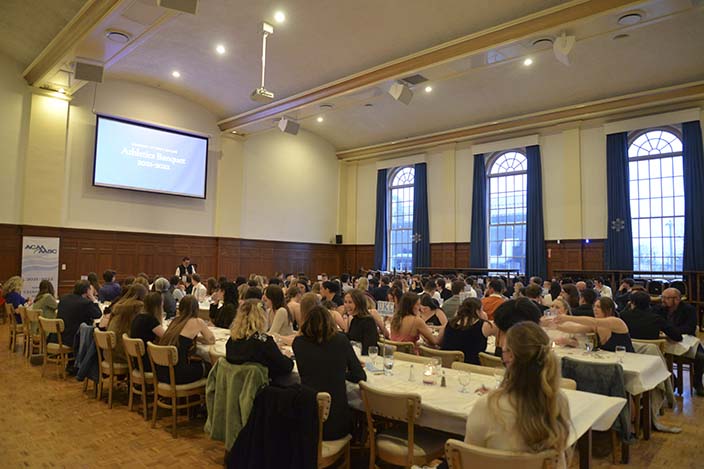 There was a lot to celebrate in King's athletics this year: the badminton team won a fourth consecutive ACAA title and won two national silver medals; women's rugby advanced to the ACAA final for the first time ever; men's rugby, men's basketball, women's volleyball and women's soccer all reached the semi-finals; and men's soccer took a team with 12 rookies to the brink of the playoffs.
Perhaps the biggest thing to celebrate though, after a third year where the athletics season was paused due to the Covid-19 pandemic, was the ability to once again gather safely as a community.
Here is the full list of award recipients:
Special Awards
Blue Devil Special Recognition Award Eliza Burroughs
CCAA Silver Medalists Bryce Mason / Sam White
CCAA Silver Medalists Anna Gillies / Jack Ronahan
The Calvin Headley Award (Male College Rookie of the Year) Aidan Badcock-Parks
Female College Rookie of the Year Anna Gillies
Gary MacLean Award (Outstanding Contribution and Dedication) Dylan Aleck
Norman Grant Award (Outstanding Contribution and Dedication) Ilyas Kurbanov
Academic Excellence Margot Bunz
E.E. Bisset Award (Male Athlete of the Year) Bryce Mason
H.L Puxley Award (Female Athlete of the Year) Emma Wilson
Team Awards
Women's Soccer
Most Valuable Player Anna Dugandzic
Most Valuable Player Tia Lovegrove
Men's Soccer
Rookie of the Year Gareth MacKinnon
Aiden Harrington Award Matt Hines
Most Valuable Player Ethan Oderkirk
Women's Basketball
Work Award Norah Quinlan
Blue Devil Award Chloe Oxner
Blue Devil Award Emma Garagan
Men's Basketball
G.H. McConnell Award Ilyas Kurbanov
Rookie of the Year Josh Crocker
Most Valuable Player Jayden Nordin
Women's Volleyball
Most Improved Player Naomi Puddicombe
Most Valuable Player Emma Wilson
Women's Rugby
Rookie of the Year Chloe Beamish
Most Valuable Player Mackenzie Butt
Men's Rugby
Coach's Award Luke Dyment
Most Valuable Player Ryoma Mibuchi
Badminton
Rookie of the Year Anna Gillies
Coaches Award Jack Gillies
Most Valuable Player Bryce Mason
Most Valuable Player Jack Ronahan
Academic Excellence Awards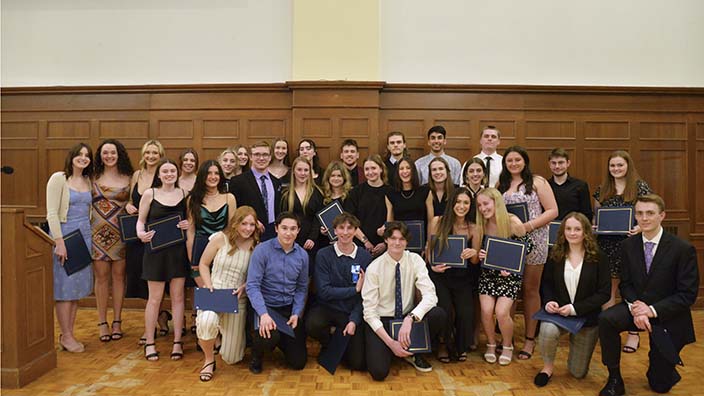 Thirty-six King's athletes received Academic Excellence awards, for achieving honour roll standing, a GPA of at least 3.7. Seven King's athletes were CCAA Academic All-Canadians, meaning they achieved honour roll standing and were named a Conference All-Star.
Dylan Aleck
Halle Andreasen
Liam Bendzsa
Ethan Brownsey
Margot Bunz
Lucy Carolan
Katie Cheslock
Maria Collins
Anna Dugandzic (CCAA Academic All-Canadian)
Luke Dyment
Olivia Ellsworth
Caitlyn Gannon
Emma Garagan
Anna Gillies (CCAA Academic All-Canadian)
Jack Gillies (CCAA Academic All-Canadian)
Leah Hartlen
Olivia Izsac
Geevon Janday
Mackenna Laceby
Faye Little
Lucas Livingston
Tia Lovegrove (CCAA Academic All-Canadian)
Ethan Merlin
Elena Neufeld
Chloe Oxner
Noah Poitras
Claire Pontefract
Fiona Purdy (CCAA Academic All-Canadian)
Braeden Redshaw
Grace Rix
Jack Ronahan (CCAA Academic All-Canadian)
Dimitra Tsimiklis
Alice Twa
Josh Williams
Emma Wilson (CCAA Academic All-Canadian)
Lily Wright
Atlantic All-Stars
Women's Rugby
Chloe Beamish
Mackenzie Butt
Hannah Risser
Caitlyn Gannon
Men's Rugby
Ryoma Mibuchi
Dylan Aleck
Eric Murphy
Women's Soccer
Anna Dugandzic
Tia Lovegrove
Rebecca Florean
Adriane Proudfoot
Kennedy Mackill
Men's Soccer
Ethan Oderkirk
Cash Layden
Women's Basketball
Jenna Bain
Men's Basketball
Jayden Nordin
Women's Volleyball
Emma Wilson
Badminton
Anna Gillies
Jack Gillies
Bryce Mason
Fiona Purdy
Sam White
Jack Ronahan
Graduating Players
Lucy Carolan (Women's Soccer), Chantel Sellars (Women's Soccer), Lily Wright (Women's Soccer), Mackenzie Butt (Women's Rugby), Brooklyn Connolly (Women's Rugby), Taryn Hanrahan (Women's Rugby), Rosa Toutah (Women's Rugby), Cale Hattori-Caspi (Men's Rugby), Noah Lawless (Men's Rugby), Josh Williams (Men's Rugby), Chloe Oxner (Women's Basketball), Ilyas Kurbanov (Men's Basketball), Dali Lombardi (Men's Basketball), Jayden Nordin (Men's Basketball), Emma Wilson (Women's Volleyball)