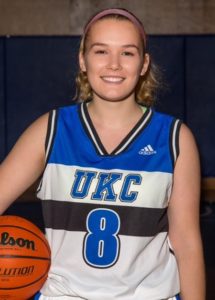 King's basketball's Heather Wall has been named a Canadian Colleges Athletic Association (CCAA) Athlete of the Week. The first-year standout from Sydney, NS had a strong performance as the Blue Devils edged the visiting St. Thomas Tommies 63-61 during King's January 15 home doubleheader.
Wall's 18 points paced the King's squad, who had lost the previous two match-ups against STU this season. She also added 8 rebounds, 6 steals and 2 blocks while going 6 for 6 from the free throw line.
With the win, the Blue Devils have started a late-season push for the ACAA playoffs, which will be held March 3-5.