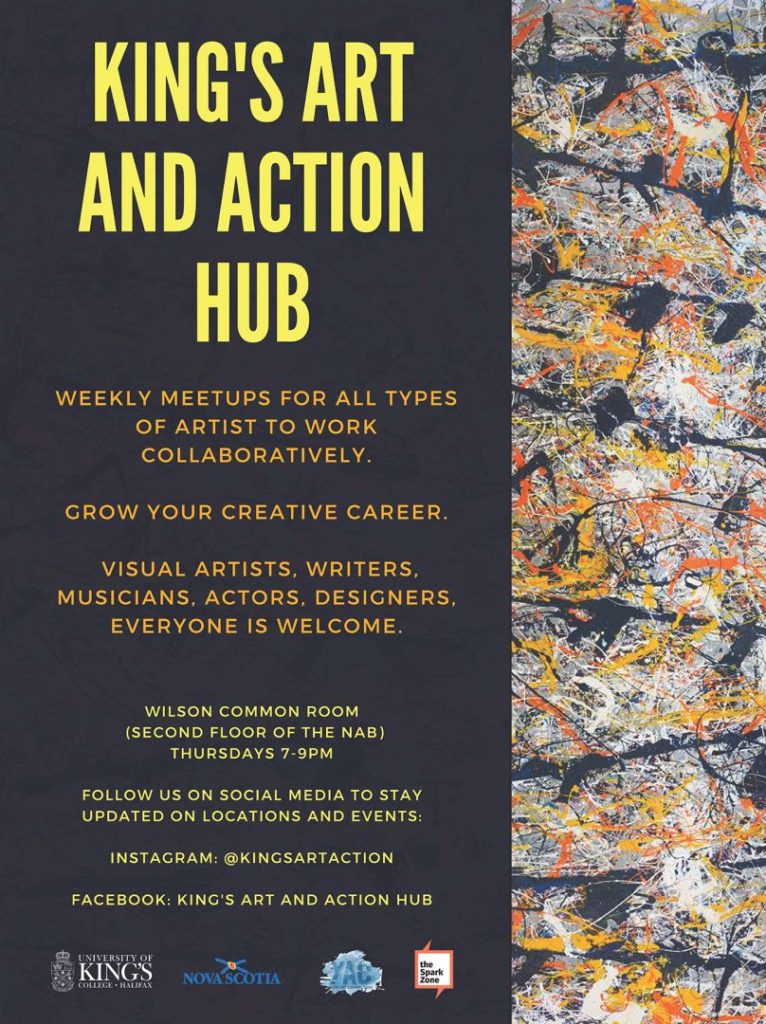 King's and Youth Art Connection (YAC) — a Nova Scotia-based not-for-profit working with youth, professional artists and community members to make positive change — are partnering to host 'King's Art and Action Hubs' this semester. Every Thursday night in the Wilson Common Room from 7 to 9 p.m., student artists can meet and learn from each other and artists working in the community.
"The goal is to build connections and confidence," explains YAC co-founder Ryan Veltmeyer. He says conversations will revolve around what it's like to be an artist at King's and in life after King's. The hubs will have some structure but also need to ebb and flow, explains Ryan. He anticipates relationships developing naturally, and says the outcomes will include learning, jobs and opportunities.
"Art is an important part of the creative economy," Ryan says, and entrepreneurial projects and hubs support young creative people who want to build businesses and careers based on their passions.
King's President William Lahey was a driving force behind the King's-YAC partnership. "King's has a long history of nurturing and celebrating students' artistic interests," he says. "This partnership validates the exploration of those talents as essential components of student learning and development. It may also allow King's students to explore opportunities for careers in the visual and performing arts."
Brielle Leblanc, a second-year Contemporary Studies Program and English student at King's, is the YAC student liaison who's organizing and hosting the Thursday evening hubs.
"King's drew me in – it's a beautiful, artsy community," says Brielle, who's a harpist, poet, writer and visual artist. In her first year at King's, Brielle founded the King's Visual Arts Society. She says she wants to help break the stigma that people can't pursue careers in the fine arts. Brielle is also planning to mount a show of student work in the Laundry Room Art Gallery this November.
King's students are invited to attend the Thursday hubs which are also open for young artists from the rest of Halifax to attend. King's students are also invited to drop-in to the original YAC Hub which happens every Wednesday from 3 to 7 p.m. at 5553 Bloomfield St. in Halifax's north end.
The collaboration between YAC and King's has been made possible through the Nova Scotia Sandbox Project. With financial support from the Department of Labour and Advanced Education, the Nova Scotia Sandbox Project is a joint initiative hosted by the province's universities and NSCC that brings students, mentors and advisers together to take business and social concepts from idea to execution. Within the family of Sandbox projects, King's Art and Action Hubs joins The Spark Zone.