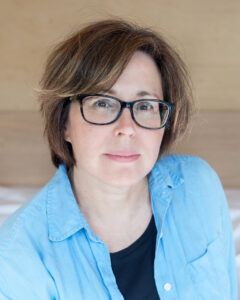 Perhaps surprisingly, Karen Stiller (Class of 2018) didn't come to the University of King's College MFA in Creative Nonfiction program with a passion to write a book.
A veteran professional writer who'd made a success of telling other people's stories, she was simply looking for a program that might push her as a writer. She sat in as a visitor on a session at the winter residency in Toronto. "I liked what I saw," she says, "which was a room full of engaged people, some older and some younger, talking together with great passion about writing… I thought I'd just put up with the whole book thing."
And then the book thing became the thing.
"I discovered the story I wanted to tell as I wrote, and that was a wonderful and new experience for me as a writer. I guess it was percolating for a while, but I didn't know it until the program helped me discover it."
Stiller's MFA project, The Minister's Wife: A Spiritual Memoir of Difficult Blessings, will be published in Spring 2020 by Tyndale, a well-known American faith-based publisher. The book "explores familiar themes like forgiveness, parenting, envy and friendship, but lived out through my experience as a minister's wife, which is a unique and odd role where people often expect you to be more together than you are. In that gap between who you know you are and who other people think you are is a lot of growing and grace. I explore that in this book."
Her mentors, she says, "helped me believe I did have a story worth sharing… My first mentor took me by the hand and led me to a tightrope, and my second mentor gave me a little shove and made me walk across it. They believed in my work and they made my work better. I'm very grateful."
Thanks to a pitching exercise — during the winter residencies, students get to pitch their book ideas to real-life editors, agents and publicists and get feedback — she met Hilary McMahon of Westwood Creative Artists. "I sat at a table with her in Toronto to explain my book. She asked some key questions, some of which made me stammer and pause to think about what my book was really about. It was a clarifying experience, to say the least."
McMahon, who "caught the spirit of the book," signed Stiller as a client and they then shaped the final proposal Tyndale bought.
So is there another book? "Well, I have learned through this program that there is more that is possible than we might ever think, or even imagine. It seems a little far off now, however."
In the meantime, she is happy to talk about her MFA experience with other prospective students. "I want other writers to know there is a place in Canada they can go and have a really wonderful time with other writers (for me it felt like summer camp, only with a lot more work), benefit from hugely personal and intensive coaching in their writing, and, amazingly, emerge with a book at the end of it."