Supporting students from British Columbia and New Brunswick
---
Find out more about Kimberly with these King's Rapid Fire Questions.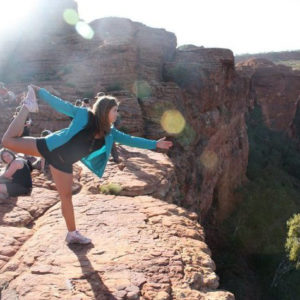 What is one of the most intriguing things you learned during your undergrad years?
"The most intriguing material I covered while in my undergrad related to neuropsychology. It was fascinating to learn about the the intricate structure of the brain in relation to psychological processes. I loved attending lectures and exploring how the brain relates to the mind and cognition."
Who, dead or alive, would you invite to join you at formal meal?
"I would invite F. Scott Fitzgerald to accompany me to Formal Meal. I've always wanted to meet the man who could write such hauntingly beautiful stories."
What was your favourite class in your Master's program?
"My favourite class in my Master's program was actually Research Methods, a preparatory course for our Major Research Project. I loved having the opportunity to delve into a topic and see where my academic exploration took me."
What do you think is the most beautiful spot in Nova Scotia?
"I think the most beautiful area in Nova Scotia is the Cape Breton highlands. I highly recommend taking a trip in Autumn when the leaves are changing colours–it's breathtaking."
Do you have a bucket list? If so, what are some of the items on it?
"I must admit that I have a long bucket list! Some items include visiting Machu Picchu, writing a book, learning to fly a small-engine plane, and learning."
Tell us about one of your most memorable university experiences.
"A moment I will never forget in my undergraduate degree would be when I finished my final examination in fourth year. I had an incredible university experience where I challenged myself and stretched my mind, all while making life-long friends in a city I love. Putting down my pencil for the last time was surreal–I was sad that my undergraduate experience had to come to an end, yet very proud of my accomplishments."