King's invites any eligible and interested undergraduate to apply to the Scotia Scholars Award in health and healthcare research.
Applications are now open!

The Scotia Scholars Award is distributed by Research Nova Scotia and funded by the Department of Health and Wellness. It is an opportunity for undergraduate students carry out original research. The award carries a value of up to $6250 and can be held for up to eight months. The start date for the award can typically be between April and September (2024).
Visit Research Nova Scotia to Apply
---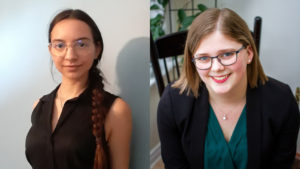 Meet the winners of the 2022 Scotia Scholar Awards, Emma Martel and Abigail Hanson, and see how it took them to the core of two important medical research programs.
---
Eligibility 
The competition is open to King's undergraduate students entering their third or fourth year in September 2024. It is a natural fit for students who have undertaken significant study in History of Science and Technology or its affiliate programs, such as the Medical Humanities Certificate, but it is open to students from other degree programs as well. See the application page on the RNS website for full details of eligibility.
Research Proposals 
In keeping with King's commitment to interdisciplinary research at the intersections of the humanities, social sciences, and sciences, proposals are invited in the following areas (these are intended to be illustrative rather than all encompassing):
History of applied science and technology as it relates to current and future health system needs

For example, what can we learn from what society did during and after past pandemics to build resilience, preserve community, and promote optimal outcomes?

Indigenous knowledge systems

For example, as they relate to illness prevention or treatment

Medical ethics and biopolitics
Inequality of access to health care, from research to treatment
Social and environmental determinants of health as they would inform preventative medicine

For example, historical reflection and contemporary inquiry into how philosophical and literary framings of social and environmental determinants of health have guided health research and societal norms regarding health and how research in this area could be deployed to promote better opportunities for health (i.e. holistic prevention versus reactive medicine)
As an alternative to proposing an independent original research project, interested students may also apply to take up an opportunity within King's interdisciplinary medical research project with Nova Scotia Health entitled "Books by Heart: Communal Bibliotherapy on an In-Patient Ward." The opportunity available is to conduct and analyse qualitative interviews with patients on an acute care ward, using an interview guide that has already been determined. Students interested in this option must email joanna.sheridan@ukings.ca to obtain a copy of the research protocol and receive alternative instructions on how to formulate their application.
Mentorship 
Recipients will have a research mentor at King's. Applicants should seek out a King's faculty mentor prior to applying. Additionally, we will strive to pair recipients with a secondary mentor who works within the world of health and healthcare. This will happen once the grant is awarded.
To Apply 
For full information and to apply, visit: https://researchns.ca/scotia-scholars-undergraduate/
Applications close at 1 p.m. on February 1, 2024.
Questions can be directed to Joanna Sheridan, Manager of Experiential Learning and Public Humanities, at Joanna.sheridan@ukings.ca.