Dorian Geiger
National Crime Reporter, NBC Universal
Bachelor of Journalism, 2013
Whether you're working on a piece about education or politics, crime or war, you can always find the human thread.
Dorian Geiger's life in Queens, New York, where he works as a national crime reporter for NBC Universal's Oxygen.com, is a long way from the prairies of southwest Saskatchewan, where he grew up on a wheat farm
"Grain elevators were about the closest thing to a skyscraper back then," Dorian jokes.
In 2005, Dorian graduated high school and enrolled in an agriculture program at the University of Saskatchewan in Saskatoon. It seemed to be a natural fit at the time. He left the family farm in the rearview.
"I grew up immersed in agriculture but not really knowing how I'd apply it," Dorian says. "I didn't want to farm in the traditional sense. I was interested in biotechnology."
Dorian's freshman year, however, didn't go quite as he envisioned. He lost interest in his classes – spent more time socializing than studying – and ultimately was slapped with an academic probation warning.
"I wasn't motivated," Dorian says of his early college days.
The then-18-year-old turned to his formed high school English teacher, Jonas Kiedrowski, for advice.
"We'd meet up for coffee in Saskatoon and just talk books," Dorian explains. "He'd critique my essays and made sure I wasn't failing my classes. Jonas taught me how to write."
Things soon began to click. Dorian dived deep into dystopian fiction, Indigenous literature and Shakespeare classes. In 2009, he was hired as the sports editor at The Sheaf, the historic student newspaper at the University of Saskatchewan.
"The Sheaf gave me the tools to carve a career path," says Dorian.
He covered a range of varsity sports – and experimented in applying a 'gonzo' style of reporting to the paper's sports section. He chased a wheel of cheese down a mountain, tried out for the university's cheerleading team, learned how to fence, and wrote about it.
"Hunter S. Thompson covered Puerto Rico's bowling leagues in the depths of his career," Dorian adds, "'The Kentucky Derby is Decadent and Depraved' is one of my biggest influences in the literary nonfiction sphere. His stories weren't really about sports at all. Hunter probed the larger societal implications of American culture using sports as a vehicle – and held up a mirror to the reader, literally and metaphorically. I wanted to do that with my writing."
In 2010, Dorian spent a month in Vancouver reporting and providing live coverage of the Olympic and Paralympic Games for The Sheaf. He also traveled to Quebec City to cover the Vanier Cup. It was there that he had a moment of clarity.
"I got booked into my hotel, went up to my room, I threw my stuff on the bed, and it hit me—this is what I want to do," he explains, "I loved to travel. I loved to write. It all kind of crystalized."
He eventually landed an assignment in Halifax covering a national college basketball tournament in 2011. While staying at a hostel on Barrington Street, Dorian learned of the journalism program at King's. He began exchanging emails with the admissions office from his dorm room. Shortly after returning to Saskatchewan, he was accepted into the program.
"I went to Halifax to report a basketball tournament and I came back convinced it would be my next new home," says Dorian.
After receiving his bachelor's degree at the University of Saskatchewan, Dorian was hired as a sports editor at The Prince Albert Daily Herald — his first daily newspaper job. He then worked a stint as editor-in-chief at The Lake Cowichan Gazette on Vancouver Island and later as a city desk reporter at Metro Saskatoon before packing his bags and heading east for King's.
Dorian spent a single year in Halifax. He received a Bachelor of Journalism from King's in 2013 with a focus on print and documentary journalism. When he wasn't chasing down stories for professors, he was a frequent contributor to The Chronicle Herald. He later moved to Singapore for a magazine internship, and eventually settled in New York City where he attended Columbia University's Graduate School of Journalism.
"If it wasn't for King's, I likely would have never made the jump to New York City," says Dorian. "The journalism program refined my storytelling approach and gave me the boost I needed to take my skillset to the next level."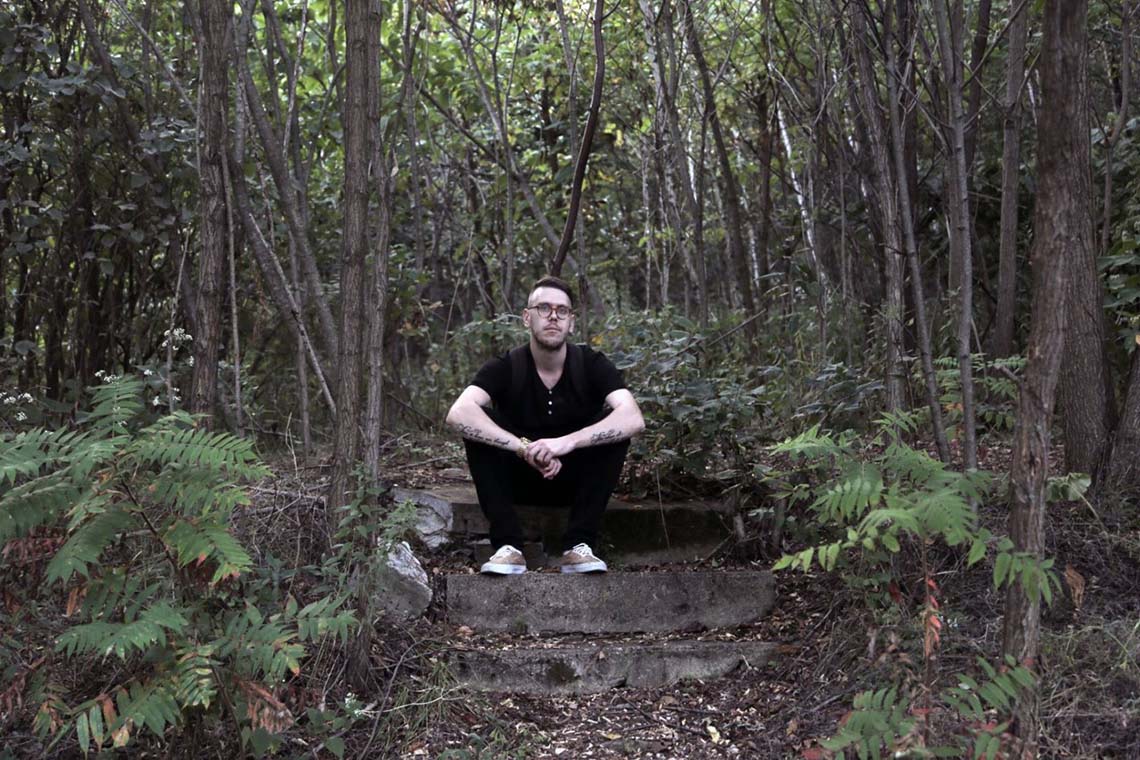 Dorian Geiger, pictured in the abandoned mining town of Centralia, Pennsylvania, on assignment for The Halifax Chronicle Herald in 2016.
​​​​Dorian's career has largely been about connections: meeting people, working with them and learning from them.
He cites a number of names — from bosses and colleagues to teachers and professors — all of whom helped him. He speaks with reverence, too, as if each individual played a role in his success, which has included publication in The New York Times, POLITICO, VICE, TIME Magazine, Teen Vogue, the BBC, The New York Post, The Guardian and others.
One key mentor for Dorian is Yasir Khan, who hired Dorian as a video producer at Al Jazeera English in Doha, Qatar in 2016. Khan, a prolific and award-winning Canadian radio and television journalist, held prominent positions at CBC prior to working overseas.
"Yasir really instilled in me the value of the human story," says Dorian. "Whether you're working on a piece about education or politics, crime or war, you can always find the human thread — and Yasir taught me to look for that. That is what I always look to do—find the human element—whenever I sit down to write a story."
Today, this approach is evident in Dorian's reporting. In recent months, he has covered police brutality, election fraud, the coronavirus vaccine rollout and a rise in Asian hate crimes. Working as a national crime reporter gives him the opportunity to connect with people of all walks of life across the country. But it can also be a daunting task, he says.
"I've never particularly gotten used to documenting death or tragedy," says Dorian. "I dig through court documents, interview detectives, prosecutors, legal analysts, and even murder suspects themselves. I also speak with the mothers, fathers, sons, daughters, brothers, sisters, husbands, and wives, whose loved ones were the victims of horrific crimes. That never gets easier. Bringing a face to that suffering is a solemn duty. But the 'human story' should always come first."
To a scribe who so deeply values the humanity of a story, it's no surprise Dorian has forged a career in journalism.
"Everyone has a story worth telling," says Dorian.
Date updated: April 2021