Stacey McLeod
Writer
Master of Fine Arts in Creative Nonfiction, 2019
We are not living as archivists now. But we should (be). You have to make the effort to record and curate your story, the community's story.
"I have a great great aunt who published two books," Stacey McLeod says. "I never met her, but I know her through her books and the physical record that she left."
Stacey is explaining part of the impetus for the book she began writing while doing her MFA in Creative Nonfiction at King's. It's called For the Record. The pitch she wrote for it earned her the inaugural Penguin Random House Canada Prize for Best Nonfiction Proposal. For the Record will examine the idea that despite everything going digital, even because of it, we may be losing our own histories, our own stories.
"We are not living as archivists now. But we should (be). You have to make the effort to record and curate your story, the community's story. I started to realize that what gets saved becomes the basis for the stories that are told later on. With so much of our lives existing in digital formats only, if we are all not backing up our files from our lives, then the stories of who we are will disappear. Or those that do survive will not necessarily tell the whole story."
Stacey's own story is worth saving.
As a child she loved books and writing. She dreamed of publishing a book one day. School seemed like a natural fit, but it wasn't. Stacey was diagnosed with ADHD. She quit in high school. It was a blow because it meant no English classes, no one to teach her about writing.
"I missed out on a lot, but I learned to write by reading," she says.
In an alternative program a teacher recognized her passion for writing and made her editor of the program's newspaper. Suddenly Stacey had both the confidence and the opportunity to write.
She went on to get a journalism diploma from Centennial College. That led to work in newsrooms and some freelance work. In 2012 she enrolled in King's Summer School in Data Journalism. That was the game changer.
"I learned to see stories in data. I'm not a math person but I love the stories data tell. I learned so much from Professor Fred Vallance-Jones about looking for the patterns and finding the human stories."
Stacey found work at mainstream media organizations such as the Toronto Star and Global. But it wasn't what she wanted.
"I had always been on the editing and production side in newsrooms. I wasn't doing the writing that I wanted to do. And I couldn't figure out how to get into that stream without it being a huge risk to my family through a pay cut and other disruptions."
King's, though, was still on her radar from her summer there. The MFA program beckoned.
"I thought it would give me a sort of safety net. First, I would be writing. Then, if I could graduate, I would have a master's degree and that would give me an edge in the future to find other work."
She was right about the writing. But there was more.
"I discovered I had a community. I had other writers, people in the industry. I started to get feedback. It opened a whole new world for me. Writing suddenly felt real. The possibility of publishing a book wasn't a dream anymore."
And the future work?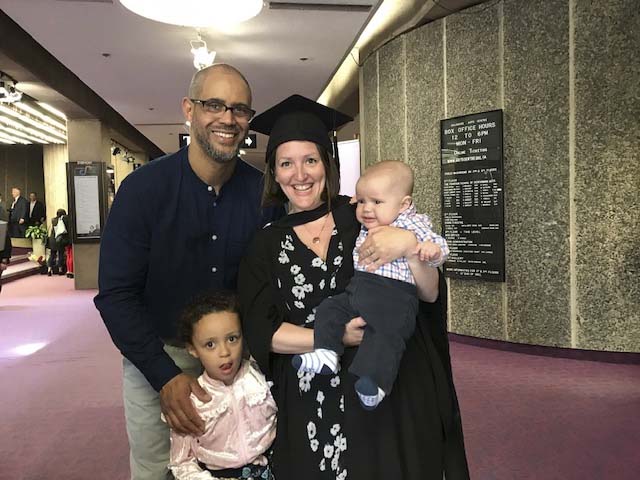 "Within three months after graduating I was recruited to work at Google. Companies everywhere are looking for good communicators. I was there for a couple of years then I moved to Shopify. I am writing every day. I write about tech. I tell stories from the marketing world. Sure, I am not in the book publishing world, but I am writing. That's my passion."
The whole experience at King's was so positive, in the midst of this pandemic, Stacey moved to Halifax from Toronto with her husband and two kids.
"I mentioned community, but most of that is the King's community and the inspiration we feel being part of it, even just visiting the campus."
While the pandemic has made it difficult Stacey is still involved with the MFA. She hosts Zoom get-togethers, Coffee Breaks for current MFA students. She loves watching them learn and discover together, forging relationships and improving their craft.
It's a way to stay connected she says. It's a way to keep her own story going.
Profile photo by Dave Abreau
Posted: January 2022