Welcome to the Early Modern Studies Program's month-long study abroad course in Florence, Italy. The course is open to all King's and Dalhousie students. Students at other universities are also welcomed to apply.
Course Description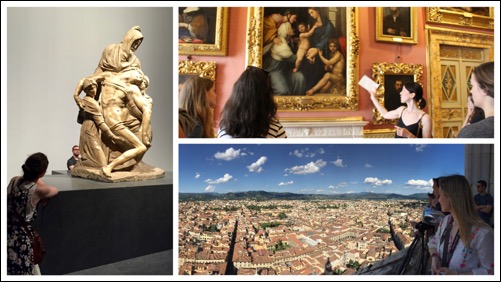 Taught entirely on site in Florence, Italy, this month-long, full-credit (6 credit hours) course provides a unique opportunity for students to consider the art, literature, philosophy, and politics of Early Modern Italy (1280-1580) through daily visits to the city's churches, palaces, and museums. Students will gain a profound knowledge of the civic, ecclesiastical, and domestic spheres of Renaissance life through an interdisciplinary analysis of contemporary objects, spaces, and texts. Readings include Dante's Vita Nuova, Boccaccio's Decameron, and Machiavelli's Discourses on Livy.
Aside from weekly introductory lectures in our hotel's frescoed meeting room, all class visits take place in Florence's museums and churches. All students in the course receive Amici degli Uffizi memberships, which provide unlimited VIP access to the Uffizi Gallery, the Palazzo Pitti, and the Boboli Gardens. (Past students have noted that skipping the queue at the Uffizi to visit their favourite works of art is a highlight of the trip!) By discussing works of art in person, both as a class and in small groups, students will develop sophisticated visual analysis and communication skills.