Welcome to the Early Modern Studies Program's month-long study abroad course in Florence, Italy. The course is open to all King's and Dalhousie students. Students at other universities are also welcomed to apply.
Course Description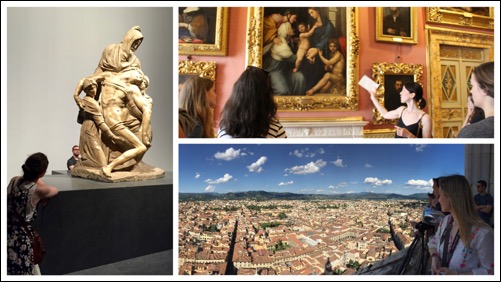 Taught entirely on site in Florence, Italy, this month-long, full-credit (6 credit hours) course provides a unique opportunity for students to consider the art, literature, philosophy, and politics of Early Modern Italy (1280-1580) through daily visits to the city's churches, palaces, and museums. Students will gain a profound knowledge of the civic, ecclesiastical, and domestic spheres of Renaissance life through an interdisciplinary analysis of contemporary objects, spaces, and texts. Readings include Dante's Vita Nuova, Boccaccio's Decameron, and Machiavelli's Discourses on Livy.
Aside from weekly introductory lectures in our hotel's frescoed meeting room, all class visits take place in Florence's museums and churches. All students in the course receive Amici degli Uffizi memberships, which provide unlimited VIP access to the Uffizi Gallery, the Palazzo Pitti, and the Boboli Gardens. (Past students have noted that skipping the queue at the Uffizi to visit their favourite works of art is a highlight of the trip!) By discussing works of art in person, both as a class and in small groups, students will develop sophisticated visual analysis and communication skills.
Dates
Arrive in Florence on Saturday, May 4, 2019
Depart Florence on Friday, May 31, 2017
Accommodations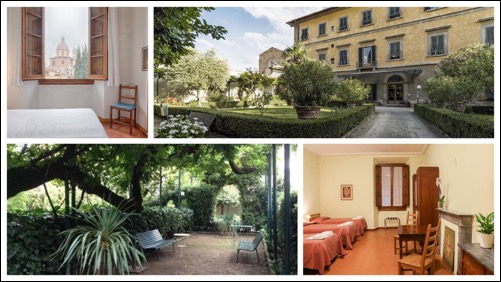 We stay at the Casa Santo Nome di Gesù, a 15th-century palace that was first transformed into a Franciscan convent in 1901, then converted it into a guesthouse in 1995. Centrally located in the Piazza del Carmine, in the student-friendly San Frediano quarter of Florence, the Casa is in easy walking distance of all class sites. Piazza Santo Spirito—the bustling center of the community, with its farmer's market, cafés, inexpensive restaurants, and the famous Gusta Pizza—is only minutes away.
The Casa's many charms include frescoed ceilings from the 17th century, a private walled garden, and several quiet reading rooms. Students will be housed in triple rooms with private bathrooms. Breakfast is provided in the dining room each morning, and there is free wifi access throughout the building.
For more information on the Casa, visit http://www.fmmfirenze.it.
Meals
An ample breakfast of cereals, pastries, fruit, yogurt, meat and cheeses is included with our accommodations, but students are responsible for all their other meals. There are no kitchen facilities available at the convent. Students should budget approximately CAD $1000-1200 for meals and personal spending for the duration of the course. The San Frediano quarter of Florence is home to dozens of inexpensive sandwich shops, quirky restaurants, grocery stores, and the famous Gusta Pizza; participating students will receive a list of these together with a map in their pre-departure information package.
Travel Arrangements
Students are responsible for making their own travel arrangements to and from Florence. You must check in at the Casa Santo Nome di Gesù on Saturday, May 4, and depart Friday, May 31.
Important Information
Eligibility Criteria
Students must meet the following criteria to participate in the EMSP's Florence Study Abroad Course:
Have completed 5 full academic credit courses at an accredited university or have permission from the instructor;
Be in good academic standing with a cumulative GPA of 2.3 or above;
Be eligible to register at King's or Dalhousie for the period of the international experience.
Deadlines and Deposits
October, 2018 (date TBA): Information Session
Friday, November 30, 2018: Application Forms Available in the EMSP Office and Online.
Friday, January 11, 2019: Deadline for Application.
Friday, February 8, 2019: Deadline for Non-Refundable Tuition Deposit of $350.00
February, 2019 (date TBA): Course Registration Opens

* To gain permission to register, students must have:

Completed the Dalhousie International Centre's Online Pre-Departure Orientation Session via Brightspace;
Submitted the "Certificate of Completion" from the Pre-Departure Orientation Session to the EMSP Office;
Paid their fees for all previous terms; and
Paid the non-refundable tuition deposit of $350.00 to Student Accounts.

Monday, March 25, 2019:Final Deadline for Registration in the Course
Course Fees
Mandatory Fees (paid directly to the University of King's College):
Tuition for a full-credit course:
$1573.00 (Estimate)
Program fee:
$2000.00
Entrance to all sites (incl. Uffizi membership):
$240.00
Accommodation (incl. breakfast):
$1730.00
ESTIMATED TOTAL: 
 $5543.00
Other Costs – Estimated:
Plane Fare:
$1000.00-1400.00
Meals and personal spending in Florence:
$1000.00-1200.00
Textbook:
$60.00
ESTIMATED TOTAL:
 $2060.00—2660.00*
*The exact total will depend on the student's chosen travel options, personal spending preferences, and the exchange rate.
Required Documents and Activities
Mandatory online Pre-Departure Orientation Session (via Brightspace):
Passport must be valid for at least 6 months after the day we return from Florence.
Students must have, and provide proof of, valid travel insurance.
Check your preferred email address regularly for updates!
Financial Aid
You may be eligible for the Dalhousie University Study/Work International Fund (SWIF). From the Dalhousie International Centre's website:
"Established by Dalhousie University as part of the Student Assistance Program, SWIF provides financial assistance to Dalhousie and King's students who want to take part in an international placement. There is a maximum award of CAD $2,000 per applicant."
Find out more about the eligibility criteria and application process for SWIF.
Questions?
Should you have any questions, please email the instructor directly at jannette.vusich@ukings.ca, or call 902-422-1271, ext. 213.
Dr. Jannette Vusich
Assistant Professor
Early Modern Studies Programme
University of King's College
3rd Floor NAB (through the FYP Office)