Course Description
Under the auspices of the Contemporary Studies program, this one-month, 6-credit hour residency course will take place in Berlin, Germany. Entitled "Memory, Politics, Place: Berlin's Twentieth Century," it offers students a chance to intensively engage with the dynamics of memory, remembrance and commemoration in the specific context of the catastrophes of Germany's twentieth century (Nazism, the Holocaust, the Cold War). Readings will include literature, writings focusing on the Berlin of the pre- and post-World War II period, studies in cultural memory and place, and critical theory involving themes such as nostalgia, historical erasure, and national identity. The course will also involve an in-depth examination of the memorial politics of West and East Germany during the time of the Cold War, as well as an examination of the politics and aesthetics of memory in post-unification Germany.
Students will also have the chance to visit the most prominent memorial sites (and some of those less well-known) in and around Berlin, and to spend a day in Dresden. These site-visits will supplement text-based morning seminars, and will involve student exercises in description, interpretation, research, and evaluation.
UPDATE: Applications are now closed.
Dates
May 3 – May 26, 2023
Accommodation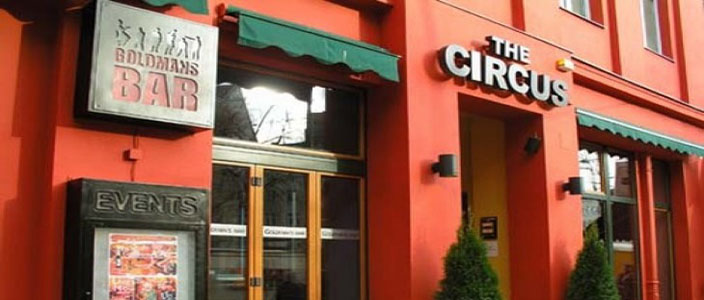 The famous Circus Hostel is ideally located in the bustling area of Rosenthaler Platz (Berlin-Mitte), a stone's throw away from the Humboldt Uni, Hackescher Märkt, and Museumsinsel. Trams and a subway stop are right outside the door of Circus. Students will be housed in quadruple rooms, with shared facilities. A buffet breakfast is provided in the dining room each morning, and there is wifi access throughout the building. Circus is also home to its own microbrewery and a café. Have a look at http://www.circus-berlin.de for a detailed description of the hostel, the neighbourhood, and its history.
Seminar Location
Morning seminars (9:30 – 11:30) will be held nearby at The Circus Hostel Brewing Co., before they open for the day.
Meals
An ample breakfast is included with our accommodations, but students are responsible for all of their other meals. Students should budget approximately CAD $600-1000.00 for meals and personal spending for the duration of the course. The Berlin-Mitte area is teeming with inexpensive bakeries, funky cafes, restaurants, and green grocers; I will prepare a list of these along with a map for the pre-departure information package.
Travel Arrangements
Students are responsible for making their own travel arrangements to and from Berlin.
Eligibility Criteria
Students must meet the following criteria to participate in CSP's Berlin Study Abroad Course:
Have completed 5 full academic credit courses at an accredited university or have permission from the instructor;
Be in good academic standing with a cumulative GPA of 2.3 or above;
Be eligible to register at King's or Dalhousie for the period of the international experience.
Applications now closed.
Dates and Deposits
Wednesday, November 16, 2022: Information session
Friday, December 2, 2022: Applications Forms available
Friday, January 13, 2023: Deadline for applications
Friday, February 10, 2023: Deadline for Non-Refundable deposit $350.00
February 2023 (exact date TBA): Course Registration opens.*
* To gain permission to register, students must have:
Completed the Dalhousie International Centre's Online Pre-Departure Orientation Session via Brightspace;
Submitted the "Certificate of Completion" from the Pre-Departure Orientation Session to the CSP Office;
Paid their fees for all previous terms; and
Paid the non-refundable tuition deposit of $350.00 to Student Accounts.
Monday, March 27, 2023: Final Deadline for Registration in the Course
Course Fees:
Mandatory Fees – to be paid directly to the University of King's College
| | |
| --- | --- |
| Tuition for a full-credit course | $1771.00 |
| Program fee (incl. month transit pass) | $2000.00 |
| Entrance fees for all museums and tours |   $100.00 |
| Accommodation (incl. buffet breakfast) | $1900.00 |
| Total | $5771.00 |
Other costs (estimated)
| | |
| --- | --- |
| Airfare (arranged individually) | $1700.00 – $2000.00 |
| Meals and personal spending in Berlin | $800.00 – $1200.00 |
| Texts | $60.00 |
| Estimated Total | $2560.00 – $3260.00* |
*The exact total will depend on the student's chosen travel options, personal spending preferences and, of course, the exchange rate.
Required Documents and Activities
Mandatory online Pre-Departure Orientation Session (via Brightspace):

Fill in form to register
Take ~2 hour course on Brightspace, and complete required quiz
Sign and upload the general waiver
Sign the ROCA (Registry of Canadians Abroad)
Upload copy of passport
Receive a "Certificate of Completion" that must be submitted to the CSP Office in order to receive permission to register in the course

Passport must be valid for at least 6 months after the day we return from Berlin
Students must have, and provide proof of, valid travel insurance
Check Dal email address regularly for updates!
Financial Aid
You may be eligible for the Dalhousie University Study/Work International Fund (SWIF). From the Dalhousie International Centre's website:
"Established by Dalhousie University as part of the Student Assistance Program, SWIF provides financial assistance to Dalhousie and King's students who want to take part in an international placement. There is a maximum award of CAD $2,000 per applicant."
Find out more about the eligibility criteria and application process for SWIF.
Questions?
Should you have any questions, please email the instructor directly at sarah.clift@ukings.ca or call 902-422-1271, ext. 164.
Dr. Sarah Clift, Assistant Professor
Contemporary Studies Program
University of King's College
Second Floor, A&A Building