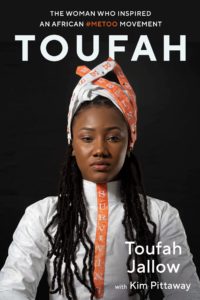 Join MFA in Creative Nonfiction alum Adelle Purdham as she talks to co-authors Toufah Jallow and Kim Pittaway (cohort director of creative nonfiction in the MFA program) about TOUFAH: The Woman Who Inspired an African #MeToo Movement.
The book, written in Jallow's first-person voice, has been described the New York Times as "riveting…harrowing and propulsive." The memoir tells the story of a courageous young woman who, after she was forced to flee to Canada from her home in The Gambia, became the first woman to publicly call the country's dictator to account for sexual assault—launching an unprecedented protest movement in West Africa.
"I chose this book because Toufah's courageous story deserves to be widely heard and talked about and shared – and because the writing is superb. I read mostly women's voices and here is a powerhouse duo and riveting tale," says Adelle Purdham, MFA '22.
In 2015, Toufah Jallow was a nineteen-year-old dreaming of a scholarship. She entered a presidential competition designed to identify and support the country's smart young women, and she won—which brought her to the attention of Yahya Jammeh, the country's dictator, who styled himself as a pious yet progressive protector of women. At first, he behaved in a fatherly fashion towards Toufah, but then he proposed marriage. When Toufah turned him down, he drugged and raped her.
Fearing for her life and concerned her family would be targeted if she told them what had happened, Toufah embarked on a desperate journey to escape The Gambia, giving Jammeh's security operatives the slip and fleeing to Senegal, eventually making her way to safety in Canada. Still, life in her new country wasn't easy: isolated and economically precarious, she fell into depression as she tried to make a new life for herself alone in a country thousands of kilometres from her family.
Then Jammeh was deposed. Seeking to ensure he did not return to power, Toufah approached human rights groups with her story, and in 2019, returned to The Gambia to speak publicly about Jammeh's crimes. Her disclosure sparked marches of support and a social media outpouring of shared stories among West African women. Each bold decision Toufah made helped secure the future Jammeh had tried to steal from her, as she became a committed advocate for survivors of gender-based and sexual violence.
In 2020, through a mutual acquaintance, Toufah was introduced to MFA nonfiction cohort director Kim Pittaway. The two quickly found common ground in their shared feminism and views on social advocacy, and embarked on working together to tell Toufah's story. Over two long weekends in Toronto just before the pandemic shut down travel, they spent hours in lengthy interviews and walking the neighbourhoods where Toufah had lived when she first arrived in Canada. Then, over the remainder of the year, they spoke for hours over WhatsApp, as Pittaway listened to Toufah's story and got it down onto the page.
Published in Oct 2021 in the United States and in February 2022 in Canada, TOUFAH: The Woman Who Inspired an African #MeToo Movement has been chosen by the Ontario Library Association as one of the top 10 books for adult readers—an Evergreen title—in its Forest of Reading program, and by the Feminist Task Force of the American Library Association as one of the top 10 books for young feminists in their Rise: A Feminist Book Project program. Publishers Weekly, in a starred review, called it a "powerful story [that] shouldn't be missed" and Kirkus Reviews, also in a starred review, described it as "a fiercely readable, potent memoir of a survivor who refuses to be silenced…An inspirational page-turner."
Join Adelle as she talks to Toufah and Kim about Toufah's story and the process of writing the book.