Get to know incoming volleyball coach Beate Shannon.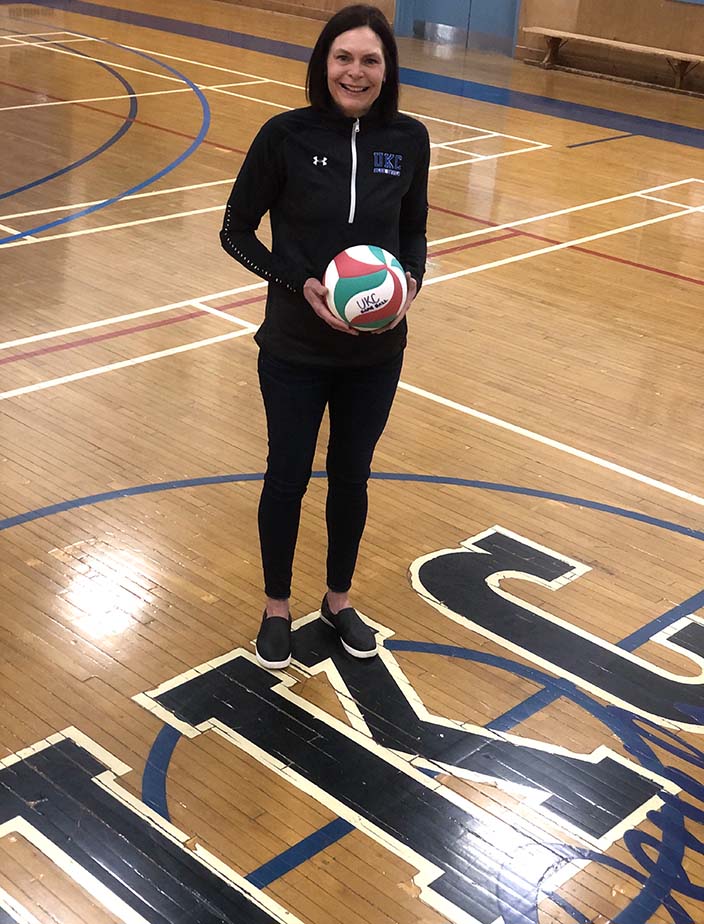 Beate Shannon has already made quite an impact on the local volleyball community.
In addition to founding an elite training program called ScotiaBeach Volleyball, Shannon has impressive coaching credits to her name. She coaches the provincial Canada Games beach volleyball team. Shannon was also an assistant coach of the Dalhousie women's volleyball team that won the 2017/18 Atlantic University Sport (AUS) championship.
Her next challenge is bringing her talent and experience to King's as coach of the Blue Devils women's volleyball team.
Shannon recently spoke to King's about her life, her career highlights and her passion for volleyball.
---
How do you pronounce your name?
beˈaːtə (bee-ah-tuh). I've gone by B for a lot of [my life].
How did you end up with such a unique name?
Both my parents are German. So, it's a very German name.
Where are you from?
I was born and raised in Ottawa.
Do you have any family in Nova Scotia?
My two sons. My oldest, Kobe, played three years for Dalhousie and my youngest, Malachy, still does.
Do you come from an athletic family?
Not really, no. I was the only one. My sister and my brother would have played a little bit of recreational sports.
Did you play any other sports growing up?
Nope. Volleyball is my main sport.
Which position do you play?
Middle.
How did you get into the sport?
I tried out for my high school team in Grade 10, and I was actually cut (laughs). Then, the coach who coached my high school asked me to come back and try out. So, I went back and tried out, made the junior team, started playing a little bit on both teams and then went on to play university.
Where did you play university volleyball?
I played three years at Carleton.
What was that like for you?
It was good. I mean, I started my first year. I was a pretty green player, so it was pretty novel for me to have the opportunity to play university because I never thought I would. I started so late. It helped me a lot with time management. Between athletics and sports, I did a Bachelor of Science in Biology.
Did you have any particularly impactful coaches?
I would say my most impactful coach was my high school coach. [Kerry McLean] got me into the sport, and he's very supportive. I am still in contact with him now.
How did you begin coaching?
I started coaching right out of high school. I took on a high school in Ottawa when I finished playing, before I moved out to Halifax.
Why were you interested in coaching at King's?
I know the current coach quite well, and I coach with one of the assistant coaches at the club. When she made the decision to step down, we started a conversation and it seemed like a good fit and a new challenge for me. I'm quite excited about it, actually.
What are some of the strengths of the King's volleyball program?
Well, the current coach has done a fantastic job of building the program and recruiting. Academically, from what I understand, the athletes are extremely strong. It's a fairly young team, so that's always fun to work with.
What are some of your personal career highlights?
Getting selected as the King's coach, as well as the Canada Games beach coach are two accomplishments for myself. My beach club, I'm awfully proud of. It has grown every year since we started it.
What do you love about volleyball?
Everything (laughs). It's a very dynamic sport. Very athletic. It's more challenging than a lot of people realize, technically, to get good at it. The kids are hard-working. They have great attitudes. There's nothing I don't like about volleyball.
What do you do in your spare time?
My spare time is volleyball (laughs). I work for the city, so, volleyball is very much a love and a passion of mine that I do in my spare time.
---
The King's community can look forward to seeing Coach Shannon around campus, perhaps with her rescue dog in tow. Lexi is a shepherd boxer mix.
German shepherd, of course.