Here's what some of our alumni have been up to recently. Have a story you want to share, or want to receive our alumni newsletter for all the latest at King's? Update your information to connect.
Evany Rosen launches new series on CRAVE TV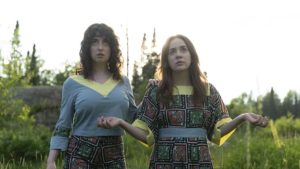 Are you looking for a binge-worthy TV show to add to your winter line-up? Evany Rosen's, BA(Hons)'10, latest project, New Eden, might be for you if you're into feminism, hallucinogenic honey, alien-goddess worshipping and laughing a lot. Rosen is the co-creator of the hilarious new TV series New Eden: a true-crime mockumentary about an all-female cult in 1970s British Columbia, which quickly implodes due to the incompetence of its narcissistic and lunatic leaders. Not only did Rosen co-write the series, but she also stars as one of the lunatic leaders. All eight episodes are now streaming on Crave TV.
Laurel Collins recently elected as Victoria, B.C.'s Member of Parliament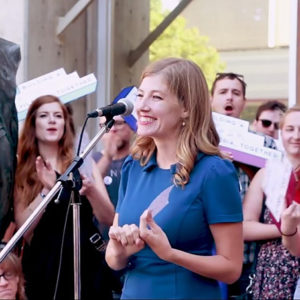 Laurel Collins, BA'09, was elected the Member of Parliament representing Victoria, B.C. in October 2019. Prior to her election in the House of Commons, Collins was an instructor at the University of Victoria and a city councillor. You can Read more about Laurel on her website.
Sam Mednick speaks at TEDxKaunas about reporting from a forgotten crisis
Sam Mednick, BJ(Hons)'05, a King's journalism grad who was kicked out of South Sudan by its government in October 2019, and praised in a subsequent New York Times editorial, has had her first TEDx Talk posted online. In her TEDx Talk, Mednick talks about what it's like to report from such a place, and the value of paying attention to this kind of "forgotten" conflict. Mednick is a freelance journalist and the South Sudan Correspondent for the Associated Press. She's worked and lived all over the world including Africa, Asia, South America, Europe and the Middle East covering conflict, post-conflict and development stories.
Megan Wennberg's 'Murder for Hire' doc receives funding
Megan Wennberg's, BJ'04, documentary Murder for Lobster has received funding from the Nova Scotia Film and Television Production Incentive Fund. Murder for Lobster is about a vigilante killing on Isle Madame, a small island off the southwestern corner of Cape Breton. Tell Tale Entertainment Inc. is producing the one-hour documentary for CBC's Docs POV. Wennberg, who also directed Drag Kids, winner of the Best Atlantic Documentary at the Atlantic International Film Festival and Best Canadian Feature at the Inside Out LGBT Film Festival, wrote and directed the documentary.