Evany Rosen plays a 'bumpkin, yokel, ding-dong' in New Eden.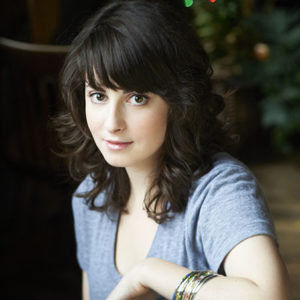 Feminism, hallucinogenic honey, alien-goddess worshipping and a lot of laughter make up King's alumna Evany Rosen's, BA(Hons)'10, latest project. It's as clever as it is ridiculous.
Rosen is the co-creator of the hilarious new TV series New Eden: a true-crime mockumentary about an all-female cult in 1970s British Columbia, which quickly implodes due to the incompetence of its narcissistic and lunatic leaders. Rosen plays the lunatic.
"I really loved being that character," she said.
Rosen, a comedy writer and performer with an Early Modern Studies and History degree from King's, developed the show with Kayla Lorette. Rosen plays Grace Lee—one of two women whose ambition for a female utopia leads to murder and lands them behind bars. "It was a real acting challenge to play Grace, because she's obviously not just the one note. She presents as kind-of this bumpkin, yokel, ding-dong but, obviously there's a lot more going on with her. So, playing those layers and knowing when to play them was a really interesting challenge."
Rosen was part of the Halifax-based improv-comedy troupe whose video, "Powerthirst", went viral on YouTube. She also wrote for the Baroness von Sketch Show and provided voiceover work in Disney's animated series Hotel Transylvania. In 2017, she released her book What I Think Happened, injecting some feminism into a male-dominated North American history.
"This idea of this 'male gaze', and how this female story is being told through the media and by these men, and how it gets twisted was also something we wanted to explore."
In New Eden, Rosen is not only telling a story focused entirely on women, but behind the scenes the two female showrunners worked with a female director, a female producer, and a female-led crew. Making a show with so many themes around feminism wasn't an accident.
"We really wanted to explore this idea that the inherent idea of these women getting together to form a community is positive, is functional, is feminist," Rosen said. Of course, Rosen and Lorette's characters ruin all that.
When you meet the protagonists, they are inmates of a Kelowna jail being interviewed by a documentary crew who discovered footage from the cult decades after its demise. You take in the story through the lens of male documentary filmmakers, an undercover journalist who lived in the cult, the media, and whatever the incarcerated cult leaders are willing to share. Each perspective has a different feel.
Rosen said it explores the ideas of the 'male gaze' and "how this female story is being told through the media and by these men, and how it gets twisted."
All eight episodes of New Eden are now streaming on Crave. Despite the fate of her fictional 1970s cult, Rosen believes a functional all-female utopia isn't a bad idea in 2020.
"I think it would probably work," she said. "Even our cast, because it felt like we were really at 'New Eden' for the time we were shooting. So many [of them] came up to me and said, 'I know it ended badly, but I still would love to live in a place like that and just go into the woods with a group of women.' And [Kayla and I] are like, 'Yeah, I know!"
Evany Rosen will be a featured Alumni Panellist at the upcoming Conference of the Early Modern, Jan. 17-18.