The Blue Devils men's and women's soccer teams have both qualified for the Canadian Collegiate Athletic Association (CCAA) National Championships following exemplary games at a two-day tournament held over the October 23 weekend.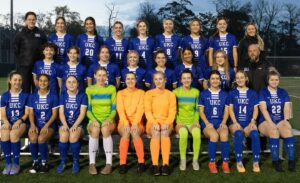 On Saturday, the women's soccer team defeated ACAA champions Mount Saint Vincent University with a penalty shootout, setting the stage for a final showdown with Holland College. While the women's team fought hard and performed well, they ultimately came up short with a 1-0 loss. However, because Women's CCAA Nationals will be hosted in Summerside, PEI, the Atlantic Conference received an extra spot. This means the team will compete in Nationals as the second representative.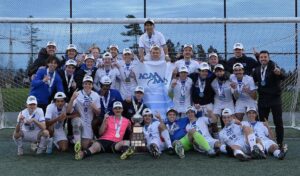 The men's soccer team started out the weekend by defeating Holland College 2-1 in an exciting game which saw King's leading the entire way. This stands in contrast to last year, when the men's team lost to Holland in the semi-finals. Following this victory, the men's team faced cross-town rivals Mount Saint Vincent University. While it initially appeared the Mount would win, King's scored a penalty kick just before the halftime mark, tying the score. Neither team scored goals in the second half and two overtime periods, setting the stage for a penalty shootout where King's triumphed. For the first time since 2007, King's men won the ACAA Championship and earned the right to go to Men's Soccer CCAA Nationals in Windsor, Ontario.
At Nationals, the women's team will open the competition with a game against Seneca College, and the men's team against Ahuntsic College. Both Nationals will be held from November 8 – 11. Congratulations to the women's team, coach Gary Carter, as well as to the men's team, coach Jamie McGinnis and both coaching staffs on their hard-fought victories!