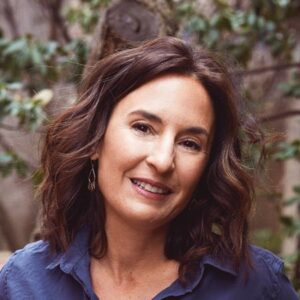 Bonny Reichert, MFA'22, has been a chef and a journalist. And because of her journalistic experience, she went to great lengths to avoid telling the story that would ultimately become her forthcoming memoir, How to Share an Egg: A True Story of Hunger, Love and Plenty.
The book is "a food memoir. It's the story of my family's relationship with food, which has been impacted by my dad's background," Reichert says. "He's a Holocaust survivor, and when he came to Canada, he went right into the restaurant business… I had this very food-centred childhood."
A longtime journalist and former editor at Chatelaine, Reichert went to chef school at 40, and, after a stint in a restaurant, focused her writing on food. But she had always wanted to get a master's degree: "That's what happens when you're raised by someone who didn't get to be educated."
While contemplating what to study, she ran into fellow Chatelaine alum and then-King's MFA program director Kim Pittaway at a wedding. After a few conversations with Pittaway, Reichert says, "I knew (the King's MFA in Creative Nonfiction) was the master's I wanted."
As a longtime journalist though, she had a hard time seeing herself in the story. Reichert recalls telling Pittaway, "I can't write a book about myself. I'm a journalist. Who cares about me?" (As she remembers it, Pittaway laughed and said, "Journalists always think it's supposed to be about somebody else.")
"When I started the program, I thought the book was going to be about other Holocaust survivors. I mean, it's so funny now, what I was going to do in order to not deal with the story that was right in front of me," Reichert says. "I was running around taping all the remaining survivors in Toronto, imagining I was going to do some kind of… I don't even know."
Eventually, she realized she couldn't avoid bringing herself into the story. That it was both her story, and her family's.
How to Share an Egg will be published in 2024 by Appetite/Penguin Random House in Canada, and Ballantine/Random House in the US. An excerpt from the book in progress won the $5,000 Dave Greber Freelance Writers' Book Award in 2022. The title comes from an incident that occurred after Reichert's father Saul had been liberated, and he and a cousin were knocking on doors looking for something to eat. At one household, they were given a single egg.
Reichert says, "The book is sort of about finding out who I am, as most memoirs are, I think. And so it's got these two things: One is finding myself becoming a chef, and the other is finding that my avoidance of the Holocaust, and Poland, and all the things that scared me — that the only way to get better from that was to face that fear, head on. I went to Poland twice, and some time after the second trip I realized there was a story that I needed to tell here."