Bryce Mason
---
When asked what advice he would give his first-year self, Bryce Mason smiles.
"As a TA, I give a lot of advice to my first and second-year chem students about how to succeed in the lab and classroom," he says. "My advice is to stay calm, balance your workload and stay true to yourself."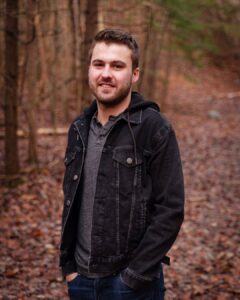 Mason is more than qualified to give this kind of advice, having found success in both athletics and academics during his time at King's. In May, he will graduate with a Bachelor of Science in chemistry. In fall, he plans to attend St. Thomas University to pursue a post-degree Bachelor of Education.
Mason first learned of King's by way of badminton—in high school, he played at local clubs with some members of the Blue Devils badminton team who encouraged him to check out the campus. At first, Mason wasn't sure. He was interested in the sciences, and King's was primarily known for its robust humanities programs. But, after he did a tour and learned more about how King's students could pursue science through Dalhousie University, he was sold.
"I came here and did a walk around and met people, especially the athletics department. [I thought] everyone's friendly, it's small, everyone knows everyone. I love it."
In addition to his studies as a chemistry major, a teaching assistant job and a spot on the badminton team have kept Mason on his toes during the fall and winter. In the summer, a blossoming career as an umpire keeps him just as busy. In fact, the day after he graduates, he's flying out to Chicago, Ill., to attend a three-day pro-camp. Later, in August, he will compete at the national level in Saskatchewan.
One of the best parts of his time at King's, he says, has been watching himself grow and change, especially as a badminton player. He cites going from only playing singles matches to learning how to pay doubles and mixed-doubles matches with ease.
"I changed from being this one-dimensional player that could only play one event, to being comfortable in all three events, even excelling in the other two," he says. "So for me, it was a big transition of my playing style, but also my personality."
And he has a little more advice:
 "It's a long ride, but it goes by quick. Enjoy the memories."
Nicole Ponto
---
When Nicole Ponto moved from Saskatchewan to Halifax in her first year, she was convinced she wouldn't know anyone. Imagine her surprise when King's famously small, tight-knit community proved her wrong.
"I'm here on one of my first days, I'm looking around, and all of a sudden I see my cousin. I'm like, what the heck?" She laughs. "It's such a small world."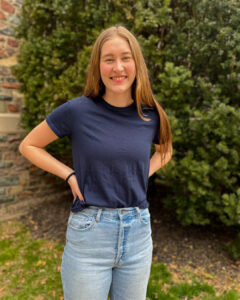 Ponto says this aspect of King's helped her feel at home on campus right away. Now, three years later, she's graduating with a Bachelor of Science in neuroscience and a Certificate in Medical Humanities.
While Ponto's undergraduate career may be coming to an end, her academic journey is far from over. Next fall, she plans on beginning a Masters in medical neuroscience at Dalhousie. At the same time, she will complete some extra credit hours to earn a Bachelor of Arts in philosophy.
Her pursuit of both the humanities and medical sciences is a little unusual, but Ponto says King's has been the perfect place to pursue these interests.
"A lot of my friends have either taken FYP or are in FYP. And it's been really nice to have discussions with them," she says. "I think about what would happen in a certain [scenario] in a scientific way, but then they bring a whole other perspective. And I found in a lot of my classes, it's the same thing."
Ponto says she's looking forward to continuing her studies next year, but has appreciated all that her time at King's has taught her. Outside of the classroom, she's been an invaluable member of the Blue Devils Volleyball team since her first year. She's also been able to make practical application of what she's learned as a student the medical humanities certificate program through a research position with Books by Heart, an experiential learning initiative and collaboration between King's, Nova Scotia Health, and the Atlantic Publisher's Marketing Association.
Her biggest piece of advice to her first-year self? Take advantage of all the societies and extracurriculars King's has to offer.
"About halfway through this past semester, I started going to the King's Literary Society meetings," she explains. "I think it's the most fun thing ever, it's awesome. You get to meet so, so many people from different backgrounds, especially people that you wouldn't necessarily have classes with."