Neyve Egger
---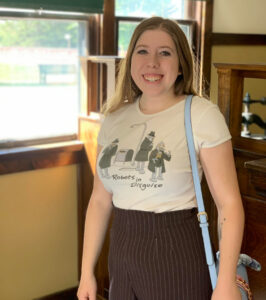 Neyve Egger didn't choose the King's path—it chose her when she was accepted on the spot while attending a lecture tour in Vancouver. Growing up in Prince George, B.C., Egger said she was unsure about moving so far from home when her friends planned to study close by.  
"I went to school the next day with my acceptance letter to show my best friend, and I said, 'But I haven't made my decision yet,' and she said, 'It's King's—you've made your decision.'" 
She says the Foundation Year Program introduced her to philosophy, shifted her perspective on politics and the law and determined the trajectory of her degree.  
"I've always really loved the law and politics, but I hadn't really dealt with philosophy until I was in FYP," she said. "I really loved … the reminder of the human (element) in all of these things." 
Egger made the most of her time at King's by volunteering at the college chapel, first as an outreach coordinator, then as warden. She also served as the event coordinator of the Contemporary Studies Student Society and, later, the president. Now, she's working in the Registrar's Office. Though Egger says she was "heavily" involved in extracurricular activities in high school, the pandemic made it easier for her to put herself out there at King's.  
"Getting to join things online (meant) I could be in my home and in my own space and make those relationships that way," she explained. "Then, when we met in person, they were already existing — that made it a lot easier for me." 
Her time working in the chapel was a highlight of her studies, Egger says, and her interest in religion and its intersection with society formed the basis of her thesis. Egger says she felt continually frustrated after attending classes dealing with missing and murdered women and "the lack of care for people deemed morally outside the norm." After listening to her frequent rants, Egger says her family and friends eventually suggested she write her thesis on the subject.  
"I would feel viscerally frustrated, and I would call my parents and rant for like an hour, but it never occurred to me that I could write a thesis on it," she explained. Egger says there is a responsibility in every community to care for one another, but in many ways, she feels that the law does not uphold this responsibility.  
"(I) was looking at secular theology to think about the way in which our legal underpinnings are still heavily tied to religious morality and how that's impacted the way in which we govern and legislate sex work," she said.  
Egger initially thought she would be a political speechwriter, but her journey at King's and developing her thesis shifted that goal. She is now interested in legal advocacy and is moving to Scotland in the fall to pursue a master's in legal and constitutional studies at St. Andrew's University.  
"I'd like to work for a non-governmental organization. Some kind of advocacy group working to make the material circumstances of people a bit better," she says. "A constant refrain in the chapel is: 'We carry one another,' and I want my work to carry others as much as it carries me whenever I can." 
"A constant refrain in the chapel is: 'We carry one another,' and I want my work to carry others as much as it carries me whenever I can."
Sam Sumner
---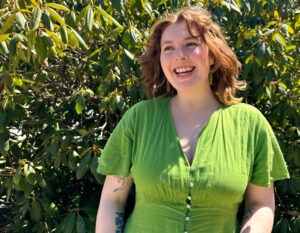 There wasn't much doubt in Sam Sumner's mind about where she wanted to study. After attending one of Neil Robertson's travelling lectures, the Toronto native said she knew.  
"From then on, I knew I wanted to do the Foundation Year Program," she said. "I'm pretty sure I only applied to two universities. I was very set on King's." 
Sumner said she originally wanted to major in Early Modern Studies, but a fascination with the history of science and the contemporary period surprised her. In April, she defended her thesis—an exploration of images of the apocalypse and neocolonialism in science fiction. 
"I was interested in … incorporating Indigenous responses to Western science fiction, which glorifies a lot of colonialism and settler perspectives on environmental activism," she said. "It was a really interesting combination of my interests and a culmination of a lot of my work (from) my degree." 
Sumner stayed in Halifax during the pandemic and helped with online class delivery by providing IT support, uploading coursework, and captioning lectures. She also volunteered with YouthNet—an after-school program for children in the city's North End. As someone who loves being around children, she said it helped her decompress and escape the "tunnel vision" that often results from being immersed in academic studies, particularly during the lockdown.  
"You could really see the toll all the restrictions were taking on (the kids), and it was just really great to get them outside," she said. "It [provided] such nice moments of joy in the otherwise sad and anxious … pandemic years." 
This summer, Sumner will be completing an internship with Research Nova Scotia, a not-for-profit organization that supports, organizes, and coordinates research to help improve the lives of Nova Scotians. Sumner said she made the connection through King's experiential learning program, which helps students translate their liberal arts degrees into practical, hands-on opportunities. As someone who shied away from STEM in high school, Sumner finds it funny that she gravitated toward science and research during her time at King's — something she never considered could be part of an arts degree — let alone her future. 
"I'm really interested in going beyond the scope of my degree," she says.   
Her advice for first-year students would be to stay open-minded — even if you think you're not good at something or it doesn't fit your original plan.  
"Don't close yourself off to things that you think you're not good at or … that you don't feel like you can pursue," she says. "Try to find something that makes you happy and blends all of your interests. There are those opportunities out there." 
Following graduation, Sumner plans to work for a year, then apply to law school — hopefully in Halifax, but she's keeping her options open. Reflecting on her degree, Sumner says she's most proud of her academic growth, resilience and adaptability.  
"Being able to see the progress I've made over the last four years is really gratifying," she said. "There were some dark moments, as I think we all experienced (during the pandemic), but being able to reflect on that time without it being completely awful is something I'm proud of … I'm really excited to keep on using these skills and developing them in different ways outside of university." 
"Being able to see the progress I've made over the last four years is really gratifying … I'm really excited to keep on using these skills and developing them in different ways outside of university."