Dr. Kim TallBear, an Indigenous technoscientist, argues Western science, reconciliation and US Senator Elizabeth Warren all push Indigenous people toward extinction
Two extra rooms were needed to accommodate the attendance overflowing from Alumni Hall on Thursday, Jan. 30 for Dr. Kim TallBear's visit to the University of King's College.
TallBear, Canada Research Chair in Indigenous Studies, Technoscience & Environment, University of Alberta, presented the annual MacLennan Lecture in the History of Science and Technology, exploring the role science and technology has in restoring good relations, resources, and governance capacity to Indigenous nations and communities in her talk: Decolonizing (≠ Reconciling): Science, Technology, and Indigenous Relations.
"Settler-colonial science and technology…has not only violated individual Indigenous peoples' rights in its exploitative research methods or practices historically," TallBear told the brimming crowd. "But perhaps more fundamentally…it's helped the state and the church violate the rights of Indigenous collectives to their lifeways, their relations with their land and waterscapes, and their relations between human kin."
More attention is given to individual rights in Western Society, whereas the rights of the collective are considered most important in many Indigenous communities, explained TallBear. "That's a real key difference in worldview," she added.
"They literally work to change the definition of who we are, therefore defining us out of existence." – Dr. Kim TallBear
The disparity causes TallBear to be pessimistic when considering Canada's current attempt at reconciliation. The language being used to discuss reconciliation assumes everyone is on board with a one-nation state and continues the attempt to assimilate Indigenous people into the dominate culture while ignoring theirs, according to the University of Alberta professor. "This is, in fact, a form of ongoing genocide."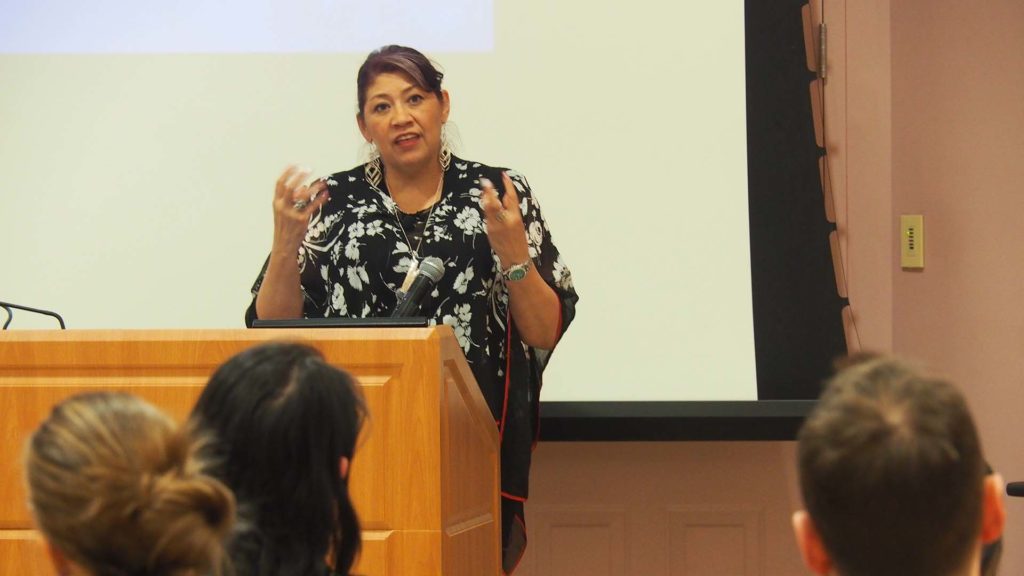 The case of U.S. Democratic Party candidate Elizabeth Warren – in 2018 she took a DNA test in an attempt to prove a previous claim she was part Cherokee – shows how science can skew what it means to be Indigenous, said TallBear.
The results of ancestry tests that suggest a certain percentage of your lineage may be Indigenous has nothing to do with the way Indigenous communities and Native American tribes determine citizenship, according to TallBear, but the Elizabeth Warren debacle only foregrounded damaging stereotypes.
"Technoscientific research, questions, methods and ethical frameworks also work to help eliminate us as Indigenous people's definitionally," TallBear said. "They literally work to change the definition of who we are, therefore defining us out of existence."
Decolonial projects
According to TallBear, Canada needs to go further than reconciliation. When considering decolonization, she suggested it is important to always think of what is being repatriated, restored, and returned to Indigenous people.
In her work, TallBear takes that approach to science and technology. She called it 'decolonial projects'. While working for the University of California, Berkeley, TallBear became involved an initiative to build green housing for the Pinoleville Pomo Nation.
A team of engineers and architects were struggling to make progress with members of the Nation, who were frustrated with green housing regulations and red tape. It was only after a year of organized discussions between developers and the Nation, the outsiders realized they couldn't separate science from society; nature and culture shape each other.
"These families wanted more round spaces in their houses," TallBear explained. "Not only because they congregated socially in ways facilitated by round spaces, but also because spirits hide in square corners."
The proposed round space disrupted the planned slope of the ceiling, which would affect the calculations for heating and cooling in different seasons. The cultural and social needs dictated a physical change to the architecture.
"To me, that's a really interesting example of restoring capacity – intellectual capacity," TallBear said. "There's an element of self-governance in this. Not only in an informal way, but in a formal way. The Tribe had to develop their own green building codes to include cultural sustainability because U.S. green building codes didn't cut it."
The MacLennan Lecture came to fruition through a generous gift from Oriel MacLennan, a life-long enthusiast of the history of science, and funds a visiting scholar to present a public lecture in the field of Science and Technology, History, or Philosophy of Science. This year, it was offered in collaboration with the Dalhousie College of Sustainability.