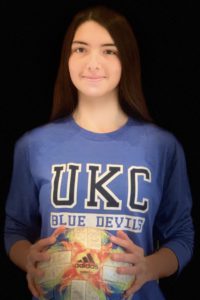 King's Women's Soccer have finalized their first signing of the recruiting season, landing center midfielder Norah DeWolfe of Ottawa, Ont. DeWolfe, who presently plays for Ottawa Gloucester Soccer Club, is slated to join the Blue Devils in fall 2022, ahead of the ACAA season.
"Norah has excellent technique when it comes to ball control dribbling, and passing accuracy," says UKC Head Coach Gary Carter. "Her skills and awareness allow her to break defensive lines and find the attacking players for link-up play." Norah will join a steady King's team who finished 6-2-4 in the ACAA regular season, with a 1-0 loss to MSVU in the ACAA Championship Semi-Final game.
---
Interested in becoming a King's Blue Devil and learning about King's? Fill out a recruitment form.