Inspired by fascinating conversations happening on campus, filmmaker Rebeccah Love got her start by filming her FYP classmates talking about their favourite philosophers
In the black-and-white video, Erik TarBush, BA(Hons)'12, sits in front of the A&A building, wearing a hoodie and expounding on Wittgenstein. He tugs at the sweater and says, "This sweater is blue. Erik looks good in blue. It's cheesy, but it's a proposition. And that's how we communicate with each other. That's how we understand the world, through language."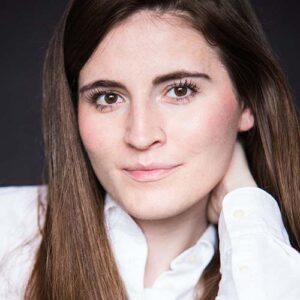 The video was shot in 2009 by Rebeccah Love, then a King's Foundation Year Program student. Love, now hailed as one of Canada's most exciting young independent filmmakers, is known in part for her strong DIY ethic. More than a decade ago, she bought a camcorder—the summer before she came to King's. And soon, she and her camera became a fixture on campus. "My instinct was just to film everything, to film anything that was happening on campus. I filmed frosh week, concerts in the Wardroom, bits of plays that were being put on in the Pit, the Christmas party in the chapel," she said. "I wasn't thinking, oh, I want to be a filmmaker. It was just a fun way to engage with the community."
By the time oral exams rolled around, "there were such fascinating conversations taking place across campus," Love says. So she decided to film her fellow students on their favourite philosophers.
Love was first encouraged to attend King's by alum Mitchell Cushman, BA(Hons)'08, who she worked with for a summer. (Cushman went on to co-found Toronto theatre company Outside the March.) She became part of the King's Theatrical Society and had her sights on a career in theatre. But then illness intervened.
"I loved King's, but I got very sick with bipolar disorder, and I had to come home [to Toronto] to be with my family… And I just couldn't act anymore. And then a couple years later, I was diagnosed with arthritis. So I became crippled and I couldn't walk very well, and I had a lot of pain in my joints. And I'm still kind of struggling with that disease, but my bipolar is more under control."
Love went on to do a degree in film at Ryerson and an MFA in creative writing at Guelph. Her short film A Woman's Block tells the story of a woman recovering from a bipolar-related depressive episode. Now, Love has a Canada Council grant to write the screenplay for a feature film exploring the manic side of bipolar.
"I'm really getting into writing and storytelling, and finding the stories that are most interesting to me. I'm fascinated by people who have bipolar or manic episodes—there's a performative element to what's going on in their behaviour," Love says. "I'm fascinated by the way the brain works when anyone is manic. I find there's a poetry to it. Although, I think in many ways, psychiatrists would call that interpretation problematic."
While her time at King's was short, Love says it has had a deep influence on her career. For one thing, there are the personal connections to King's alumni. Thomas Hoy, BMus'14, who she met in her first weeks at King's, and who has been a Canadian Screen Awards finalist, has scored four of her films. She has also worked with actors, an editor, seamstress, script editor, and film editor who are all King's grads.
"There's a certain type of student that the University of Kings College attracts. It's someone who is curious, someone who is a critical thinker, someone who is hard-working, someone who has an imagination. And all of those qualities combined into one make for a very attractive collaborator," she says.
Meanwhile, the pandemic has left her a lot of time to focus on the feature script she is writing. "I recognise that this period of time is really, really challenging for a lot of people. And I definitely have my bad days," she says. "But from a writing perspective, I have lots of time, lots of mental real estate to dedicate to my story."