In the spring of 2018 Dayne Patterson was working for Kelowna Now, a media outlet in BC's Okanagan Valley. He was covering a visit of Canada's Minister of Defence, Harjit Sajjan. Dayne, at the time, had his sights set on studying journalism at King's and mentioned this to some of the other reporters at the event.
"The more seasoned journalists asked me why I would go to J-School. They figured it was a dying profession."
Patterson chuckles as he recounts the moment. Their cynicism may have caused him to think a little about his choice, but it certainly didn't deter him.
"We are in a bit of rough time right now in journalism," he says. "We maybe need to lose or rethink the more traditional ways of reporting. But we do have to hold people to account. We do need to report the truth."
It's that thoughtfulness and belief in the value of his chosen profession that helped Patterson become this year's University of King's College Governor General's Silver Medal recipient. It's a prestigious award that recognizes academic excellence and is given to the student "who has shown significant professional development during his or her time in the School of Journalism."
Patterson has certainly done that.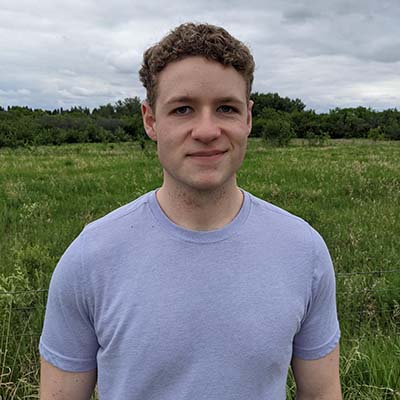 Journalism though wasn't at the top of the list of professions for the Saskatchewan native. He had thought of a career in auto mechanics, but he was also drawn to writing. The pen is mightier than the wrench it seems and so after high school he attended UBC Okanagan in Kelowna and earned a BA in English and creative writing.
Patterson started to write for the school paper but the impetus to become a journalist, he says, really came from his sister, Denica Bleau who also, by the way, won a medal for academic excellence.
"My sister is a big advocate for social justice. She is a big reason why I got into journalism because journalism is about holding people to account. It's about fighting for the little guy. I think that's the kind of journalist I am."
That shows in a project Patterson took on with two other journalism students. Ethan Lycan-Lang, BJ'20, and Leslie Amminson, BJ'20. It was a documentary about how sexual assaults are treated on university campuses. It was, says Pauline Dakin, MFA'15,"an excellent and nuanced long-form journalistic piece that required the kind of research and determination that would challenge many professional reporters."
Dakin is an assistant professor and associate director of the School of Journalism. She was impressed by the incredible thoughtfulness and sensitivity Patterson and his colleagues showed.
"When we prepared for the interviews," Patterson says, "we sat in a room and tried to get the wording exactly right so there weren't any triggers or wrong words."
Dakin adds—"It's amazing the hours they put in. They would work until maybe one in the morning and still be the first ones in the next day."
It was worth every minute. The documentary, Making the Private Public, was broadcast on CBC Radio's Atlantic Voice. It was the first time the program commissioned a student project.
Patterson also excelled in the Investigative Workshop, led by Associate Professor Fred Vallance-Jones, showing the same kind of passion for detail in the search for the truth. That workshop ramped up his desire to dig and dig deep, mining data to discover and build a story. When he finished his Bachelor of Journalism degree he entered the Masters program and continued to develop his skills as an investigative journalist.
In an odd blip of procedure Patterson ended up being awarded his BJ, his MJ and the Silver Medal all on the same day.
"I had almost logged off from the virtual ceremony after the degrees but I was curious to see who got the medal. Then they called my name and I went—'What?'"
And that is Dayne Patterson. Pauline Dakin puts it this way.
"He is one of those unassuming leaders who does well for himself but also for everyone around him. He was such a great guy to have in the class. He just made everybody better. He is one of those people who sets the bar pretty high and so everybody reaches a bit more."
If those veteran reporters in Kelowna had known what was to come for Patterson they may not have been quite so cynical about the future of journalism.