Maybe the only person who was surprised that Isabelle Flack was this year's recipient of the King's Medal was Isabelle Flack herself.
"Surprised and honoured!" Flack says. "It's funny because I got off work late so I was a bit behind on the online broadcast of the graduation ceremonies. All of a sudden people started texting me and I was really confused!"
Those who know her know this isn't her first award for academic excellence. There was the Commonwealth Political Science Prize, the Alexandra Society Scholarship and prizes for top marks on exams.
As awards go, the King's Medal is a big one. It goes to the top graduating student in an Honours Arts or Science Program. That's Flack all the way.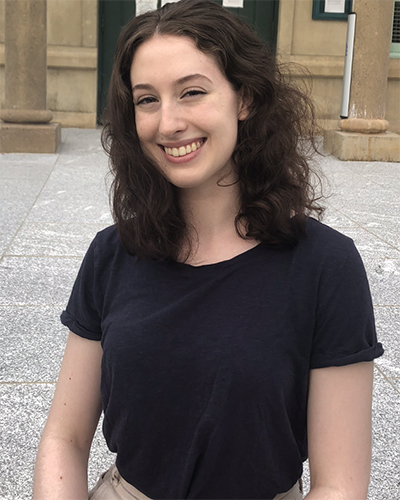 "She's got a clear, analytical mind," says Professor Mike Bennett. He's the associate director, academic, of the Foundation Year Program (FYP). Isabelle took a class from him on Bio-Politics, but he first met her as a student in his FYP tutorial.
"Isabelle also has a great sense of humour: I remember once in FYP the whole tutorial erupted into laughter­—she started it—at the suggestion that Aristotle thinks our souls have a rational part and an animal part, and it's up to the former to domesticate the latter the way that a horseman does a wild stallion. It was one of the most memorable moments of the year."
Flack grew up in Ottawa and early on took an interest in the city's main industry—politics. She went to Canterbury High School and that's where the King's bug bit.
"I vividly remember a line from the university Viewbook that King's provides for prospective students. It's stayed with me. It said: 'The world needs educated citizens who can steer ongoing debates and challenges away from easy answers towards deeper truths.' That resonated with me as someone who wanted to go into political science."
Flack's year in FYP was intellectually challenging and exciting she says. It was also transformative.
"It was in FYP, while reading the realist thinkers like Hobbes, that I became interested in the idea that security, both domestic and external is the necessary foundation on which the rest of political life depends. It is a necessary thing for political life to function."
Flack decided to minor in Security Studies through Dalhousie, her major being Political Science. What she liked best was how she could take courses at both universities, allowing her to stay connected to King's and providing an interdisciplinary element to her work. She mentions the course she took through Early Modern Studies called "The Pirate and Piracy" and how it gave her another way to think about terrorism.
But there is more to Isabelle Flack than academic rigour. She was president of the King's branch of the World University Services of Canada (WUSC). She was also a member of the King's Chorus.
"I have been involved with choirs my whole life so this allowed me to have some consistency in my life when I moved from Ottawa to King's. And the members of the chorus are all part of the King's community, but not just students. There were profs and alumni. It was so rewarding to have the intellectual experience of FYP and to be surrounded by music as well."
The pandemic of course played havoc with some of the important aspects of Flack's King's experience—the chorus and the classroom—but she says she discovered something through the isolation, something about the true nature of being at King's.
"We learned that the King's community is not just in the classroom. People tend to think of King's as a physical space and that the community is so dependent on being in the Quad or the Wardroom. But it's not. The way King's societies this year collaborated and supported each other, despite Covid showed that it isn't just the physical space."
Flack's goal is to one day work in public policy so she is taking the next step to prepare for that. She has enrolled at Dalhousie's Schulich School of Law. That decision too was influenced by her experience in FYP.
"So many of the thinkers we were studying had a legal background such as Descartes and Cicero," she says. "This got me thinking of a law degree as being a rich intellectual experience."
And that, for Flack, is just so important.
So yes, the only person who could possibly have been surprised at the announcement of the 2021 King's Medal winner was the winner herself.