What happens to King's students after they graduate and leave King's Quad? Where do they go? What do they do for a living? And how do they feel about their time at King's?
We know anecdotally from keeping in touch with many of our 12,000+ King's alumni worldwide that they're doing interesting, fulfilling, and important work across wide-ranging sectors, but now we also have some quantifiable data that helps us better understand their career outcomes.
In April 2019, King's surveyed our alumni to dig a little deeper. Approximately 1,000 grads completed the survey, providing a broad set of information about what a King's education meant for them and their careers.
In May 2019, the final survey results came back to campus. And the data paints a pretty clear picture: our graduates enter the job market with skills that set them up for success.
Some of the most exciting findings? A King's grad is very likely to continue their lifelong love of knowledge; most (74 per cent) will go to graduate school or continue with other additional post-secondary education. Over half of our graduates get a master's degree!
To assess early career outcomes, alumni were asked where they found themselves in the first two years after graduation. Our graduates reported that most of them were employed shortly after they left King's: 81 per cent were employed within two years of getting their degree. Most of these recent grads were working full-time—23 per cent reported that they had a part-time job within two years of completing their degree, though it's helpful to know that the main reason our alumni were working part-time instead of full-time is that many of them (53 per cent) were still in school, and therefore, not looking for full-time work.
Alumni Jobs by Industry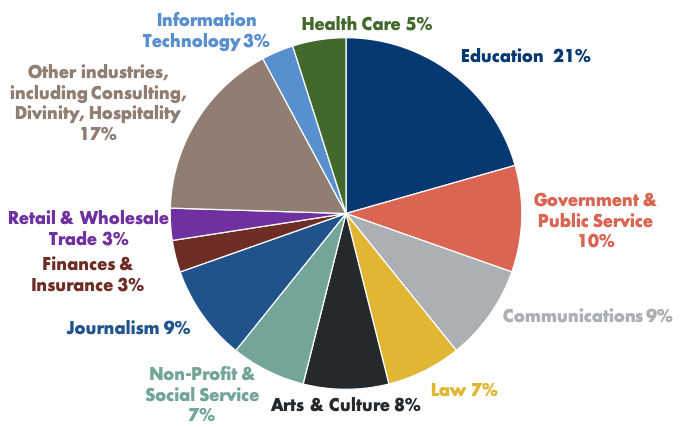 When asked about their current employment, most alumni reported that they are employed and working full-time. There's quite a variety of jobs that King's grads are doing, but you're most likely to find our alumni working in industries like education (21 per cent), government and public service (10 per cent), journalism (9 per cent), communications (9 per cent), arts and culture (8 per cent), and law (7 per cent).
If you want to get more specific about the jobs our grads are doing, take a look at this list of actual job titles among our BA graduates: Curator, Crown Attorney, Author, Artistic Director, Economist, Librarian, Government Relations Officer, Banker, Farm Manager, Grants Program Officer, Speech Pathologist, Stage Manager, Assistant Registrar (like yours truly), Outreach and Communications Director, Investigative Reporter, Occupational Therapist, MLA, Registered Midwife, Literary Translator, Social Worker, Horticulturalist, and (of course) Faculty Fellow in the Foundation Year Program.
Not only do they do interesting things, we also learned that King's alumni are getting paid. One in five of our alumni earn $100,000/annually or more.
When asked what they were most proud of about King's, several responses from alumni indicated that King's, and particularly the Foundation Year Program, prepared them for their next steps. Here's a selection of survey respondents' thoughts:
"Rigorous FYP prepared me exquisitely for further academic pursuits, including teaching in a liberal arts college. FYP was stretching, challenging, and rewarding."
 "…the intensity of the Foundation Year Program prepared me not only for the remainder of my undergraduate degree, but for my two graduate degrees as well."
" [FYP] prepared me for the real world."
Finally, my favourite finding in the entire report was that a whopping 95 per cent of alumni would choose King's again, if given the choice.
If you're interested in learning more about of the unique career paths and success stories among our alumni, please visit ukingscommunity.ca. There, you can read about graduates such as Katherine Connolly, whose Bachelor of Arts (Hons) degree ultimately led to her career as a Software Engineer; Alanna Robinson who started out with a Bachelor of Journalism Honours, that took her to a career in law; Cassandra Hallett DaSilva, who advocates for educators as the Secretary General of the Canadian Teachers Federation; and Dr. Drew Yamada who came to King's to study literature and is now a pediatrician.