Catherine Martin, King's Board of Governors member and a leading filmmaker, storyteller, community activist, drummer and educator, has been appointed to the Order of Canada.
Catherine was recognized for her award-winning documentaries and for her commitment to promoting education among the members of the Mi'kmaq, Maliseet, Innu and Inuit communities—particularly women and youth.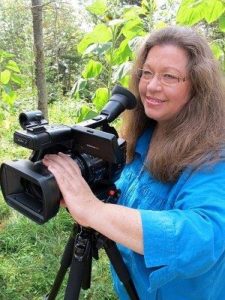 In November, she delivered a Night FYP lecture on "Storytelling on Unceded Mi'kMaq Territory." She also worked with journalism students this fall on their groundbreaking investigative reporting of the 100th Anniversary of the Halifax Explosion. Using traditional and data-driven reporting, 9:04:35 explores the disaster and its aftermath, the lost Mi'kmaq community of Turtle Cove, and the rebuilding of Halifax. Catherine told the student reporters, "What I devote my life to is telling our stories. And telling them from my perspective. Telling them in the right way, from my place of my cultural property."
Catherine is a member for the Millbrook Mi'kmaq First Nation Community in N.S. She is the past chairperson of the board of directors for the Aboriginal Peoples Television Network and served on the board for the first five years of its inception. She has contributed to policy and institutional change to make culture and arts more accessible to First Nations artists. Her contributions to film, television and digital media in Atlantic Canada were recognized with a WAVE Award from Women in Film and Television Atlantic.
Catherine is one of four Nova Scotians who were appointed in December 2017. Established in 1967 by Her Majesty Queen Elizabeth II, the Order of Canada is the cornerstone of the Canadian Honours System, and recognizes outstanding achievement, dedication to the community and service to the nation.
King's congratulates Catherine on this honour.