There are some people who argue twenty-four hours in a day is not enough, and then there is Benn Van Ryn, who squeezes a far-above-average amount into his days.
Van Ryn is a fourth-year international development studies and management student. To gain experience and help pay his way through school, the Ottawa native has worked as a tour guide for King's, front desk attendant at the university gym, and more recently is flexing his entrepreneurial skills in a student painting company. Somewhere in all of that, he not only found time to play on King's 2018 Atlantic Collegiate Athletic Association (ACAA) champion badminton team but contribute on a level that earned him the title of Team MVP.
"I think a lot of opportunities have opened up through the connections I've made at this school, both in work [and] socially," admits Van Ryn. "I've met a lot of really interesting people and I think that I've grown a lot through the challenges that I've faced at school or in business. I think those have all led to who I am today."
Someone who has made the most of those opportunities, and probably created some for himself along the way, Van Ryn recognized convenient ways to make money on-campus while gaining valuable experiences.
"I think the jobs that I've had on campus have been really convenient in the fact that they're really close by, and they help me get more involved in the community," he explains, "meeting more people and becoming a part of the university in a different way."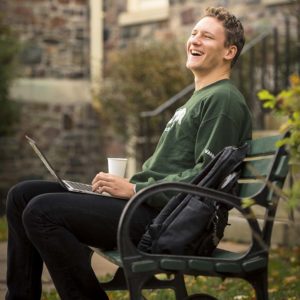 Student Jobs on Campus
As part of the community at King's, students can enjoy the convenience of a part-time job right here on campus. King's proudly has three student-owned and operated businesses that employ students: the King's Co-op Bookstore, the Wardroom (campus pub) and the Galley (campus canteen). There are also part-time employment opportunities as phonathon caller, research assistant, dining room (Prince Hall) server, front desk administrative support, or working in the fitness centre, library or on campus patrol.
Campus jobs offer students a way to contribute to the King's community while developing immediately employable skills and earning income.
Van Ryn says despite appearances, change and challenge aren't always comfortable for him but King's helps him through the process. "Academically there's definitely a lot of difficulties, especially in transitioning into university," Van Rynn points out. "I think that [King's] is quite good at being accommodating for that. The Foundation Year Program helped me a lot, if I'm honest, with the transition." He believes having a group of students go through the transition together creates a support network for everyone. His time living in residence also helped him feel more welcome.
"I lived in Radical Bay my first year. It was really great. It was a really good community," says Van Ryn. "I made a lot of good friends that I'm still friends with today." He says King's is so tight-knit that it is easy to meet and socialize with people in other residence building and host social events.
A major attraction to King's for Van Ryn was school athletics. In February, Van Rynn was part of the King's badminton team that won the ACCA championship, the first ever badminton title for UKC and first athletic banner in five years. Van Ryn and partner Bryce Mason would also go on to earn a spot in the Canadian College Athletics Association national championship in Edmonton where they would finish fifth in all of Canada in a very competitive field. "It's been amazing playing for King's. There's a great community in our team."
"I think King's really does values its academics as well as its athletics," exclaims Van Ryn. "I really enjoyed the balance here."