King's celebrated the achievements of its student-athletes on the field, in the gym and in the classroom at an awards ceremony and dinner on April 8.
There was plenty to celebrate, with badminton capturing its first Atlantic Collegiate Athletic Association (ACAA) championship and sending four athletes to nationals this year, and 30 Blue Devils receiving academic excellence awards, which are given to student-athletes with a GPA above 3.7. Women's volleyball player Isabelle Roach won the college-wide academic excellence award.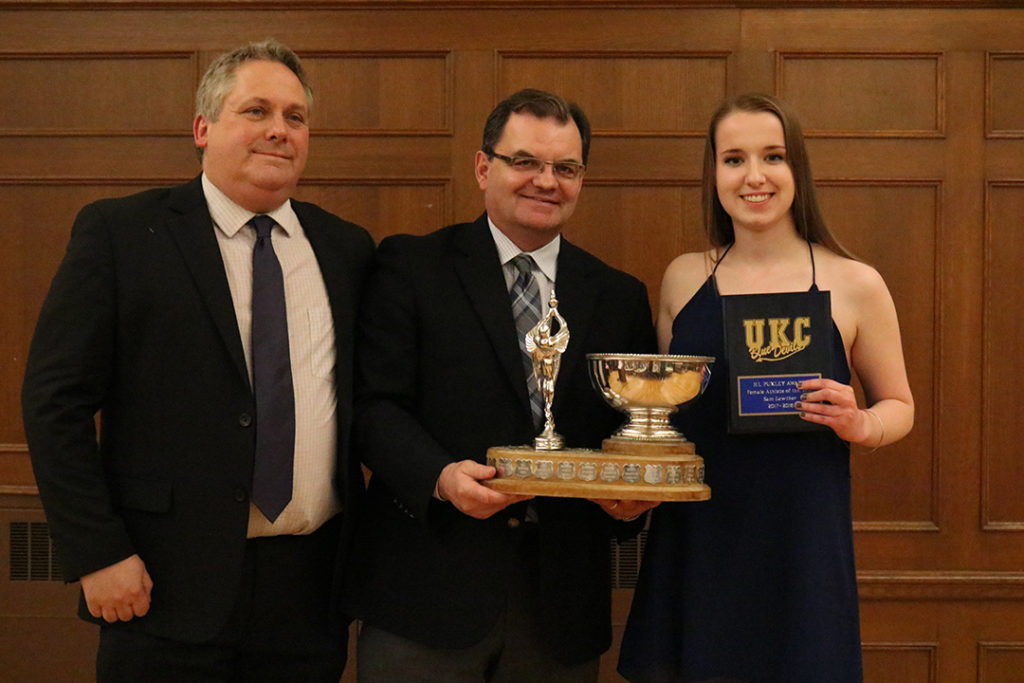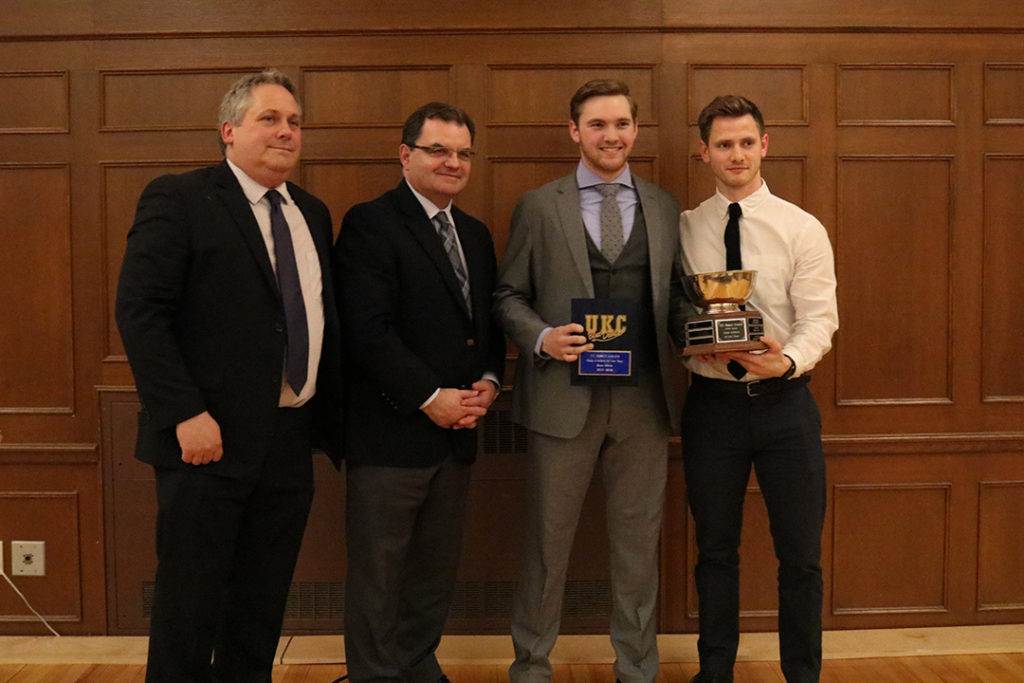 Dual-sport athlete Sam White (badminton and soccer) shared the E.E. Bisset Award for male athlete of the year with graduating soccer player James Whiteman, while badminton's most valuable player Sam Lawther was awarded the H.L. Puxley Award for female athlete of the year.
Here is the full list of award recipients:
Special Awards
The Calvin Headley Award (Male College Rookie of the Year) – Bryce Mason
Female College Rookie of the Year – Abby Hourigan
Gary MacLean Award (Outstanding Contribution and Dedication) – Cassie Hayward
Norman Grant Award (Outstanding Contribution and Dedication) – Shinji Yamamoto
Academic Excellence – Isabelle Roach
E.E. Bisset Award (Male Athlete of the Year) – Sam White/James Whiteman
H.L Puxley Award (Female Athlete of the Year) – Sam Lawther
Team Awards
Women's Soccer
Most Valuable Player – Kristin Berthelsen
Most Valuable Player – Jill Curley
Men's Soccer
Leadership Award – Lauchlin Ewald
Most Valuable Player – James Whiteman
Aiden Harrington Award – Josh Kester
Women's Basketball
Team Award – Jessica Simm
Most Valuable Player – Candace Reynolds
Men's Basketball
G.H. McConnell Award – Nash McLean
Defensive Player of the Year – Jordan Dyck
Most Valuable Player – Campbell Colpitts
Women's Volleyball
Most Improved Player – Taryn Neufeld
Most Valuable Player – Kirstin Conrad
Women's Rugby
Rookie of the Year – Isla Littlewood
Most Valuable Player – Ariel Greenblat
Men's Rugby
Most Improved Player – Nate Geoffrion
Most Valuable Player – Eric Main
Badminton
Most Valuable Player – Benn Van Ryn
Most Valuable Player – Sam Lawther
Academic Excellence Awards
Danielle Areseneau
Madison Bennett
Kristin Berthelsen
Campbell Colpitts
Ryan Critch
Jillian Curley
Thalia Garvock
Ariel Greenblat
Cassie Hayward
Brendan Irish
William Jamieson
Claire Jansen-Faught
Sylvie Julien
Ilya Kurbanov
Rebecca Liptay
Morgan Macintosh
Mackenzie Maeland
Nash McLean
Taryn Neufeld
Meghan Noel
Chris Pearse
Lindsey Puddicombe
Edie Reaney-Chunn
Isabelle Roach
Elizabeth Scott-Black
Jessica Simm
Riel Tetrault
April Tucker
Heather Wall
Chanel Zhouri
Atlantic All-Stars
Women's Rugby
Ariel Greenblat
Isla Littlewood
Men's Rugby
Eric Main
Jordan Gillis
Women's Soccer
Jill Curley
Morgan MacIntosh
Men's Soccer
James Whiteman
Josh Kester
Brendan Irish
Jack Creaser
Sam White
Women's Basketball
Candace Reynolds
Badminton
Sam White
Sam Lawther
Bryce Mason
Benn Van Ryn