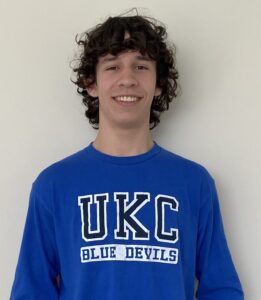 King's Men's Soccer have solidified their first signing of the season, collecting Dimitri Kyriakakis of Halifax, NS. A winger from Citadel High School and Halifax Country United Soccer Club, Kyriakakis opted to stay local to the Halifax area and play for the Blue Devils.
"I chose King's because I felt like as a player I can improve a lot more at the college level especially under the coaching King's has…I also feel like the Foundation Year Program will give me the experience I need to broaden my academic career and help me get to where I would like to be" says Kyriakakis. "I'm excited to play for the soccer team this year and hopefully come out on top. I'm super thankful for this opportunity given to me."
Dimitri will not be the first in his family to pull on a jersey for the Blue Devils. Jimmy Kyriakakis, Dimitri's father, played soccer for the King's from 1992-95, winning the 1995 ACAA Championship in his senior year.
While playing soccer, Dimitri intends on studying in the Foundation Year Program with an interest in pursuing a major in Psychology.