Artists, art historians and contemporary culture theorists at NSCAD University (NSCAD) and the University of King's College (King's) are delighted to announce they have received a $235,000 insight grant to research memory activism.
The grant, awarded by the Social Sciences and Humanities Research Council (SSHRC) of Canada, will involve interdisciplinary research and creation between artists, museologists, curators and scholars of genocide and memory studies.
The project will look at public commemorations of such historical events as the Holocaust, and what public spaces have been designated for commemorations. While its reach will be international, the roots of the project's activities will be in Poland, where the team has community partners and ongoing research projects. Over three years, they will refine and focus their work with The Zapomniane Foundation, which researches unmarked mass graves of Jews in locations outside death camps such as forests, villages and rural areas.
"Creating successful grant proposals is all about the teams that pull everything together," explains Solomon Nagler, associate professor of media arts at NSCAD, and the principal investigator. "For smaller, non-traditional universities, we have many strong voices at NSCAD and King's to collectively bring an important conversation into an interdisciplinary, inter-university realm."
The co-applicants for the grant include Dr. Dorota Glowacka – King's; Dr. Sarah Clift – King's; Dr. Carla Taunton – NSCAD; and Angela Henderson – NSCAD. Dr. Karin Cope – NSCAD, is a collaborator on the project.
"We're committed to an inclusive and more radically popular approach to visualizing and spatializing the public memory of these non-sites of memory, and aim to develop a broader research-creation pedagogical framework that can expand across disciplines and contexts," says Nagler. "We want to examine how the counter monument challenges the idealization of heroes, and invites us to not only reflect upon the past, but reflect on our interpretation of the past."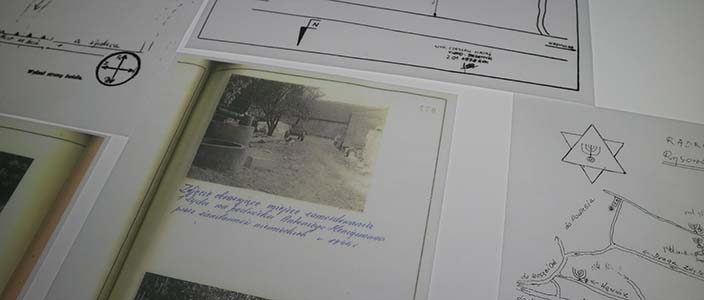 The research will draw on memory/genocide studies and curation methods. The team intends to host a colloquium and shows, plus produce an interdisciplinary curriculum for studio arts and contemporary studies that integrates reflexive, hands-on experiential learning with critical reflection on theories of collective memory and memorialisation. A project website will launch in September to provide broad access to the ongoing interdisciplinary research creation activities, and free webinars throughout the year will feature artists, curators and theorists from across the globe who intersect with the research in memory studies and counter-monument theory.
"What's unique is we're assembling an international team to explore how communities engage with what one theorist calls 'difficult heritage,' that is, those histories that pose unique political and ethical challenges to remembering," says Dr. Sarah Clift, assistant professor, contemporary studies, at King's.
Very often the issue of how to remember traumatic histories is taken up within national frameworks: questions about what we as a community remember, and how we remember, are posed with an eye to national identity, Dr. Clift explains. "So, we have discourses, theories, and histories of how collective memory functions in Germany, in Poland, in Canada. Those frameworks are important, of course, but they are not able to account for how permeable national borders are, and how multifarious the pressures and the opportunities are, that affect projects of national memory."
The project seeks to ask:
Can memory-making be a conversation rather than a 'self'-assertion?
Can memory-making be a form of contesting dominant memory?
Can memory-making itself be a form of pedagogy, amongst students of history, art, and technology?
Can we open up our collective acts of memorialization to different voices?
Are there lessons that different constituencies can learn, whether inspirational or cautionary, from other countries and communities who have approached the work of memory-making with different frames or investments?
The representatives from both NSCAD and King's say they are grateful to SSHRC for the insight grant. They're also delighted to get the opportunity to work together.
"Sarah and I were chatting over breakfast in Halifax while I was doing work in Poland with the Zapomniane Foundation and we started asking ourselves, 'How does an artist work in these spaces?' " says Nagler. "We starting mapping out the origins of the research proposal right there on a napkin. I really feel like we've pulled a dream team together on this proposal, and I'm very happy that we'll be able to create paid research positions for our students."
"I am thrilled at the opportunity to partner with my colleagues at NSCAD; Sol and I have been talking about a partnership of this kind for three years now, and I'm really happy that we'll be able to explore the themes of collective memory, art, and counter-monumentality in such depth, and in such a multi-dimensional way," says Dr. Clift. "I can't wait to get started on the work!"