Receiving the Harrison McCain Scholar/Bursary means Jessica General-Knickle can focus on her ambitions
University of King's College first-year student Jessica General-Knickle is taking the first steps toward achieving her ambitious goals of becoming a university professor, thanks to the Harrison McCain Scholar/Bursary.
Worth $16,000 over four years, the scholarship is granted to high school graduates in Canada who have a minimum admission average of 80 per cent, documented financial need and a recognized desire to fund their own education.
Scholarship motivates recipient to 'go deeper'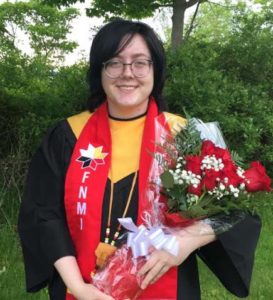 Jessica General-Knickle first heard about King's at her high school career fair in Dartmouth. When she told the King's recruiters that she was interested in philosophy, they said she'd be a good fit because King's specializes in the humanities. She was also attracted to the university's close-knit community.
"There were 15 people in my Grade 12 class, and there are 15 people in my tutorials, so it isn't a big change from high school," says General-Knickle. "It's fun because you get to know your classmates and the professors."
When General-Knickle was looking for scholarships to apply for, she discovered that she met the criteria for the Harrison McCain Scholar/Bursary. "The others were very specific, but I don't volunteer, I just go home and study. The Harrison McCain was only based on marks and financial need, so I'm really glad it exists."
The email announcing that General-Knickle had been awarded the scholarship arrived in the middle of her high school English class. "I thought, I guess I can scream in my head!" she says. "When class ended, I texted my family. Receiving the scholarship helps me worry a lot less. It also made me realize that I'm ready to take this first step and to keep on going."
Next steps include a master's degree and a PhD so she can realize her dream of becoming a university professor. "I want to spread knowledge and love. Getting the scholarship is good motivation for me to go to all of my classes and tutorials, and to go deeper into my work than I did before."
---
This article was updated on September 8, 2023