Stepping into the King's Library sometimes feels like you are really stepping into a different world; there are busts of famous thinkers, big cozy armchairs, and a plethora of old books that seem to be hailing from a time long past. However, if you go into the lower level at the moment, you will see several beautiful displays that look like they belong in a natural history museum.
Hello everyone, this is student social media ambassador James Ersil in my first blog post. I'd like to tell you about a new exhibit created by a member of our community, King's student Rachel O'Brien.
I met with Rachel in the King's Co-op Bookstore, because in addition to being a fourth-year Contemporary Studies and English student, she works part-time in the bookstore. For the past couple of summers, however, she has worked in the King's Library and this summer while working in the archives, she curated the natural history exhibit.
It features lots of cool artifacts like fossils and corals. My personal favourite was a taxidermied pufferfish that I thought was interesting. Rachel mentioned that while working with the taxidermied specimens, she had to be very careful and wash her hands a lot because they used to use some dangerous chemicals like arsenic!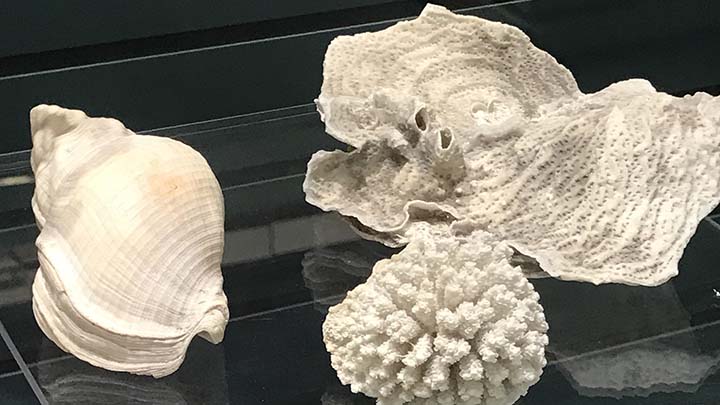 The exhibit was created from boxes of natural history specimens that had been displayed in the 1990s; 30 or so in total. Rachel said she dug through the boxes had some information about the previous displays but mostly had free reign to create the most visually appealing displays she could (while maintaining culturally appropriate cohesion).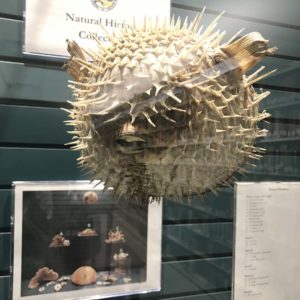 Rachel told me that working in the archives, she "felt able to use the tools that King's ha[d] given her." She mentioned her Contemporary Studies class from the previous year being science geared, an area that she didn't have much knowledge of before but nevertheless found very interesting.
Talking with her I saw how much she cares about the King's campus, working in the bookstore, working in the library, and I thought it would be great to shed a little spotlight on her and the exhibit—which you should definitely check out! (It will be up until June 2020.) The King's community is so incredible, and there's something fresh and innovative happening every day.