Award-winning filmmaker and journalist writer Dr. Sylvia D. Hamilton cast a critical eye on past portrayals of African descended people in Nova Scotia and called out segregation in schools in her talk on ancestry at the Universities Studying Slavery conference last week.
Early last Thursday afternoon (Oct. 19), the Halifax ferry could be seen crossing the harbour from the windows of the Halifax Ballroom inside the Marriott Harbourfront Hotel. International scholars, professors, and media had assembled there at the Universities Studying Slavery Conference (USS) to hear Dr. Sylvia D. Hamilton speak at the luncheon keynote address.
The conference, hosted by Dalhousie, the University of King's College and the Black Cultural Centre for Nova Scotia, was the first USS gathering to be held outside of the United States.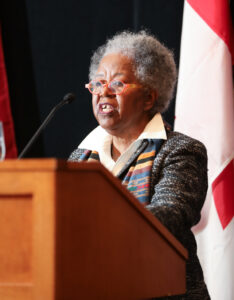 Dr. Hamilton's keynote presentation centred around ancestry. She began by thanking Mi'kmaw ancestors and taking a moment of silence to remember children lost to violence, before then introducing herself through a description of her own personal ancestry.
"I am the great granddaughter of Charlotte and Charles Grosse, a descendant of Robert and Tena Hamilton, self-liberating Black Refugee survivors of the War of 1812," she said. "African descended people in Nova Scotia have shaped their identity with the forge and anvil of resistance, struggle, and love."
Dr. Hamilton — an award-winning filmmaker, writer, journalist, public speaker, poet, professor, and activist — titled her presentation "On the soil of my ancestors: A report from the Black Atlantic," drawing inspiration from American poet and novelist Jean Toomer's 1923 book Cane celebrating African American culture.
Celebrating visionaries
The presentation consisted of five "field notes" and findings, referencing the language used in sociological studies and showcasing both personal and archival photographs. "I have inserted African Nova Scotians into [British cultural and social theorist] Paul Gilroy's conceptual framework known as The Black Atlantic," she said. "African Nova Scotians, Black Nova Scotians are central to the development of Nova Scotia and Canada."
The findings included details about how African Nova Scotians were portrayed in early sociological studies, particularly by Canadian scholars in the 1950s and 1960s.
"I am not sociology. I am not a problem. I am human," she said.
"Sometimes researchers behaved as though they knew more about us than we knew about ourselves."
She continued speaking on how African-descended people have been misrepresented in Canada and its educational system for over a century.
"Representations of African people in early Canadian schoolbooks used in Nova Scotia and elsewhere showed ugly depictions that presented African people as childlike at best and hardly human," she said. "The caricatures generated name calling on the playground by white classmates who grew up to become business owners, politicians, bankers, social workers, teachers, etc."
Instead, Canadians could have been learning about people such as Eleanor Collins from Alberta and British Columbia.
"She was one of the first female singers in North America to have her own television show in 1955 produced out of CBC in Vancouver," explained Dr. Hamilton.
Or visionaries such as Drs. William and Pearleen Oliver, community leaders in N.S. who helped combat racism and injustice through their work in churches and, in Pearleen's case, as a founder of the Black Culture Centre and the AUBA Women's Institute. Dr. Carrie Best, another stalwart of the community, helped shine a light on the discrimination faced by Viola Desmond in a New Glasgow theatre through her work as a journalist.
All this, despite the segregation and racism directed toward African Nova Scotians at the time.
Closer to home
Dr. Hamilton described being raised in Beechville, a historic Black community near Halifax. There, she grew up as the daughter of Marie Waldron Hamilton and Gerald Hamilton. Marie taught in Halifax area segregated schools.
According to Dr. Hamilton's film documentary, The Little Black School House, segregated schools existed in Nova Scotia until 1983.
"The Little Black School House tells the story of segregated schools in Canada, the teachers who taught and the students they taught. It's a multi-voiced intergenerational narrative," she said. "It is a story of the struggle of African Canadians to achieve dignity and equality through the pursuit of education."
Dr. Hamilton also made clear that these are "made in Canada" stories of segregation.
"As James Baldwin so eloquently wrote, 'if history was past, history wouldn't matter. History is present. You and I are history. We carry our history. We act our history,'" she said.
"Early African people here were leaders, architects, engineers. They were also designers, their project was freedom and dignity."
As the ferry outside crossed the waters of Halifax harbour once more, Dr. Hamilton closed her speech with a viewing of her film The Passage: Waters of the Diaspora.
After the talk, Riley Paris, a second-year history major at Dalhousie, shared her thoughts with Dal News about Dr. Hamilton's keynote.
"I think my favourite part was when she spoke about how African Nova Scotians have been here in Nova Scotia, they have been establishing groups and communities here," she said. "We have been here for a long time, and that's such a big part of the history of Nova Scotia."
Riley walked away from the talk with a better understanding of the injustices of the past.
"I really liked how it was kind of poetic, and, hearing her talk about segregated schools — it made me realize this is recent, and you know, it's not fair to treat anyone as just sociology. These are people who had these causes and segregated schools affected their lives."
This article first appeared in Dal News.