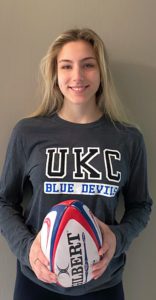 Women's rugby have continued their spring recruiting campaign by adding Caitlyn Gannon of Beaver Bank, N.S. A captain for the Millwood High School Knights rugby program, Gannon will join teammate Chloe Beamish, who signed for the Blue Devils in April.
Gannon, who plays at flanker or No. 8, cited continuing her development under King's Head Coach Lysa McGrath as a major draw for choosing King's. "I chose King's for their reputation of quality education and commitment to athletics…Especially Head Coach Lysa McGrath, who has already helped me improve as a player," says Gannon. "I'm very excited for the college experience as a whole and meeting new people. I also can't wait to play varsity sport." Gannon intends to enroll in a Bachelor of Science in the fall.
---
Interested in becoming a King's Blue Devil and learning about King's? Fill out a recruitment form.