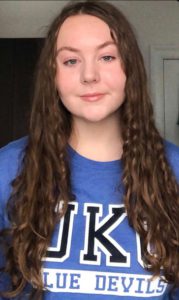 Frances Cooke has become Head Coach Beate Shannon's first recruit of the new year, signing on to join the King's Women's Volleyball team in the upcoming 2022-23 season. A 6'0 Outside Hitter, Cooke brings a wealth of experience to the Blue Devils, having earned three provincial medal finishes in Ontario from 2018 to 2020, a Hamilton City Championship in 2019, and three Ontario Volleyball Association Awards of Excellence, among other accolades. Cooke presently plays for Westdale Secondary School in Hamilton, and is a member of the Mountain Volleyball Club 18U Everest squad.
In addition to volleyball, Cooke cites academic opportunities as a major factor in her decision to choose King's. "The Foundation Year Program (FYP) is what really drew me to King's," says Cooke. "I love to read and write, and I wanted to study in a smaller environment…the campus is gorgeous and Halifax is such an amazing city. King's checked all of my boxes for what I was looking for in a school."
Cooke will enrol in FYP with an interest in pursuing a Bachelor of Arts degree at King's.
"I'm particularly excited to join the close community at King's, and to be able to compete with their volleyball team throughout my years there!"
---
Interested in becoming a King's Blue Devil and learning about King's? Fill out a recruitment form.