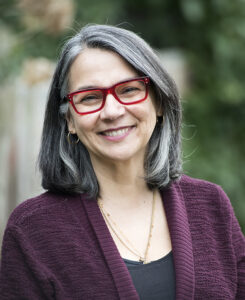 The day Esmeralda Cabral, MFA'19, received three different rejections from three different publishers was a low point in her book publishing journey. "I think people need to know there are hard days," says Cabral. "I decided that day I would allow myself one day of going, 'Oh, woe is me.' And then the next day, I was right back on it."
After interest from a publisher fell through in early 2020, Cabral followed the pragmatic advice of her mentor, David Hayes, put together a list of 22 potential publishers and pressed ahead with pitching, even during the height of the COVID-19 pandemic. She saw each rejection as an opportunity to polish her book proposal and manuscript.
"The MFA program gave me an awareness of the need for persistence and polishing as the ways to getting your book published," says Cabral.
The energy for that tireless effort came in large part from the confidence her mentors, Hayes and Lori A. May, placed in the Vancouverite's book project.
"My mentors believed in my story. The things they said made me believe in my story. And I feel like that is the only thing that got me published, because I had a lot of rejections, but I thought, if Lori and David think this is a story, then I'm going to keep trying," says Cabral.
That persistence paid off when academic publisher, University of Alberta Press, signed on to publish Cabral's How to Clean a Fish: And Other Adventures in Portugal.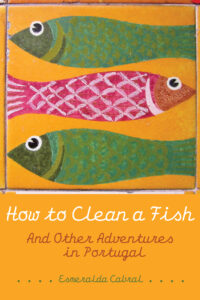 Since its release in May 2023, the book has been making serious waves on the literary scene as a top read on spring nonfiction lists for 49thShelf (Most Anticipated: Our Spring 2023 Nonfiction Preview), CBC books (70 works of Canadian nonfiction to check out in spring 2023) and The Toronto Star (20 best books to pile by your hammock this summer); and coverage on the Writers Radio podcast, in Portuguese American Journal, and excerpted in Montecristo Magazine. Readers can expect to see more publicity in the near future too.
There's something in this book for everyone, says Cabral. How to Clean a Fish is, at once, a travel memoir, a family story in which food figures prominently, a narrative about returning to one's birth country and culture, and ultimately, about exploring one's identity and grappling with a sense of belonging. But the part that especially sticks with readers, says Cabral, is her Canada-Portugal connections. "What everyone touches on is my immigrant story about being born in one place, then living most of my life in another, and the longing between the two."
Born in the Azores – the Portuguese archipelago in the mid-Atlantic – Cabral grew up in Alberta, and now lives in Vancouver. Her book recounts the story of her family adapting to life back in Portugal when her husband was offered the chance to temporarily work in Costa da Caparica, on the west coast of Portugal, south of Lisbon.
CBC books describes How to Clean a Fish as a book "[f]or anyone who has moved from one place to another and is seeking their own version of home."
The book idea started from a series of blog posts. Cabral was writing "Postcards from Portugal" for friends during her family's eight-month stay in Costa da Caparica. A friend complimented Cabral on the series, saying it would make a wonderful book. With that, the seed was planted.
"And then one day, I was flipping through a magazine and there was an ad for the King's MFA program. It read, 'Do you have a book in you?' And I thought, 'Yes, yes, I do.' So, it was my friend planting the seed, and then seeing that ad – that's why I applied for the program."
Cabral credits the MFA program for pushing her to go deep with her family travel memoir.
"I thought this is going to be my happy little book, like a travel book telling readers to go here, go there, and isn't it a beautiful place? But it became more than that, thanks to conversations with mentors and things I was picking up in class," says Cabral. "While this is a travel book, it's also about connection on different levels, with family and with culture and with feelings of grief."
The book's title is a nod to Cabral's late mother, who had tried to impress upon her children that cleaning a fish is an essential Portuguese skill. By the time Cabral became interested in learning that skill, it was already too late. She would master the technique by learning from the women fishmongers at the Costa da Caparica market instead.
Again, a story of persistence, with a side of luck.
"There is always an element of luck," says Cabral referring now to her publishing journey.
Having secured a publisher, Cabral recounts asking the acquisitions editor why she'd picked her book. The writing was good, the editor began, but it was the way Cabral conveyed ideas about home. At a family dinner, the editor recalled her brother-in-law sharing his own immigrant experience and emotions of duality, at times feeling quite loyal to his birth country and culture. In that moment, the editor realized Cabral's book delivered a deep, universal theme.
"How lucky is that? My book spoke to her because of a random dinner conversation," says Cabral who adds there's a clear message in her publishing experience: "Just keep going."
You can find out more about the King's MFA programs here.