Poets Live! is a new series that connects writers and readers.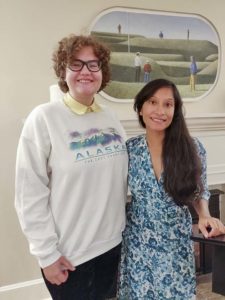 King's Haliburton Society, founded in 1884, is the oldest extant English literary campus group in North America and the British Commonwealth. To put it plainly, the Haliburton Society has been around for a long time, but it's always finding ways to keep up with the literary world and its newest initiative, "Poets Live!" is no different.
"Don't worry about fitting in, just be curious!" poet Doyali Islam (pictured on the right) told a room of enraptured King's students (including me, second-year student James Ersil pictured on the left) and faculty on Oct. 3 when the Haliburton Society hosted its inaugural Poet's Live! event. Islam, a Toronto-based poet, was the first featured "Poet's Live!" guest. The event, which the Haliburton Society is aiming to make into a series featuring Canadian poets, was hosted in the President's Lodge.
Islam read from her newest poetry collection, entitled heft, which she spoke about having worked on for nearly 10 years. She described her poems as domestic and interior, and said she wants to provide hope through her work. She captivated the audience through 12 of her poems, stopping for Q & As in which she talked about how she writes, and what she writes about.
She said this latest collection of poems is about "the things we carry," and sitting in that room you could feel everyone connecting to her words. Whether or not it was the same poem or even the same poem but interpreted differently didn't matter; it was a room full of people being connected through poetry, and it was beautiful.
Haliburton President Lucy Boyd (above, with Islam and President Lahey) is hoping that this event will show people what Haliburton has to offer and that just because they're an old society doesn't mean they don't have important messages that resonate today. The idea from Poets Live! came from a yearning to want to connect people with writers and each other.
The Haliburton Society originated as a group of students that shared a passion for literature but who couldn't necessarily all afford to buy books. Their solution was to pool money together to buy a singular copy and take turns reading the book aloud to each other. These old books still reside in the Haliburton Archive to this day, and through the ongoing series, Poets Live!, the Haliburton Society hopes to add some new memories to the pile and further strengthen the connection of literature.