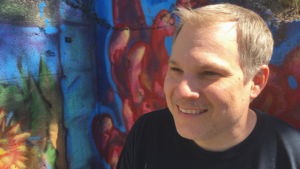 Jason Schreurs, MFA'22, has always done things on his own terms.
Growing up in Powell River on British Columbia's Sunshine Coast, Schreurs found solace in skateboarding and punk rock, eventually building a life as a music and culture writer, with stints editing and publishing at community newspapers. But after a bipolar diagnosis, a whirlwind manuscript creation and a publishing deal that fell through, Schreurs found himself once again looking to his scrappy, DIY roots as a small-town punk rocker to share his story with the masses.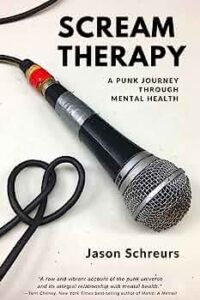 That story is Scream Therapy: A punk journey through mental health, which officially launched on May 1, with Schreurs' own independent publishing company, Flex Your Head Press. It's the story of his own mental health journey and that of other punks he learns from, exploring the healing power of a misunderstood music community and ultimately coming to the realization that punk rock helped them cope at the lowest points of their lives.
In 2018, Schreurs was diagnosed with bipolar and quit his full-time job in publishing to focus on recovery. But without the structure of full-time work, he felt aimless and restless. Partially to find some structure and partially to find a creative outlet, Schreurs applied to the King's MFA in creative nonfiction program, which his wife, journalist and author Megan Cole, MFA'21, was already enrolled in.
"From the day I was diagnosed with bipolar, I was on a mountain top screaming it," he says. "I've always been a person that helps people … and I think I really saw that as an opportunity to educate people and just tell my story so other people would be able to relate to it."
Schreurs knew he wanted to write a memoir and he knew he wanted to incorporate three distinct threads throughout it: His own mental health journey, the journeys of others in the punk community — many of whom he'd interviewed on his Scream Therapy podcast – and a more experimental recounting of a wild tour he went on that captured the most extreme of his highs and lows. Weaving these together, however, proved to be a challenge, one that was deftly guided by his first-year mentor, writer Cooper Lee Bombardier.
"Cooper gave me sort of a mic drop moment because he suggested that I become more of an active narrator [in the literary journalism thread]," says Schreurs. "I think I had envisioned that as being more separate, like memoir here and journalism over here. Cooper opened my eyes to the idea that it could all be weaved together so that I could actually be in that second part of the story. Now it really flows."
By the start of his second year, Schreurs had largely finished a first draft of his manuscript. His second-year mentor, author and editor, Wanda Taylor, couldn't have come along at a better time. "Wanda was amazing the second year because she has so much experience with editing and acquisitions and the whole publishing side," he says. "I was able to learn more from her about that side of the industry. She was really good at the editing side to open up scenes or make things more descriptive."
Turns out, that editing and publishing insight would come in handy. When a book deal fell through shortly after graduation, Schreurs did what he's always done: he found a way to make things work, on his own terms. Building on the lessons he'd learned about the publishing industry through his King's coursework, he started making calls to determine what it would take to publish his book under his own press. That included finding a printer, hiring a distribution company, building a marketing plan and organizing launch events throughout the province. It worked: a week after he'd picked up his first run of books from the printer, he'd almost sold out completely.
In the future, he'd like to edit and publish books from other writers, especially those writing about mental health. "Right now, the press is just a logo on the back of my book, but if I could take it past that, it would be amazing," he says. "Because I'm an editor, I'm really excited to be working with other people on their books."
Schreurs knows his trajectory might not be the norm, but he has no regrets. "You know, I'm a punk rocker, so I've always done things my own way."
You can find out more about the King's MFA programs here.